Types of Online Slots – RTP, Features & Bonuses
There are a number of different slots games that players are able to play online and the number of choices has increased massively over the years. We put together a quick guide for the different types of online slots for you and also some recommendations on the best place to play these different slot types.
The main types of online slots can be categorised as:
Fruit Machines
Classic Slots
Video Slots
Mobile Slots
3D Slots
iSlots
Progressive Jackpot Slots
These different type of online slots can then be divided into further categories as each of the different types can have their own variation of the game. You may be familiar with the following:
Depending on the main category of slot game that you are interested in playing there will be a choice within that main category. If you decide to play a fruit machine then this typically has 3 reels, if you are a video slots player then this can have 7 reels. If you enjoy play mobile slot games then this will typically be a video slot game as you are playing on a mobile device.
Technology has made slot games more fun over the years and the slot game makers are always coming up with innovative new ways to make slot machines better, the latest innovations have come in the form of 3D slots and iSlots which are taking the gaming experience to the next level.
We've put together a brief description of each slot type below.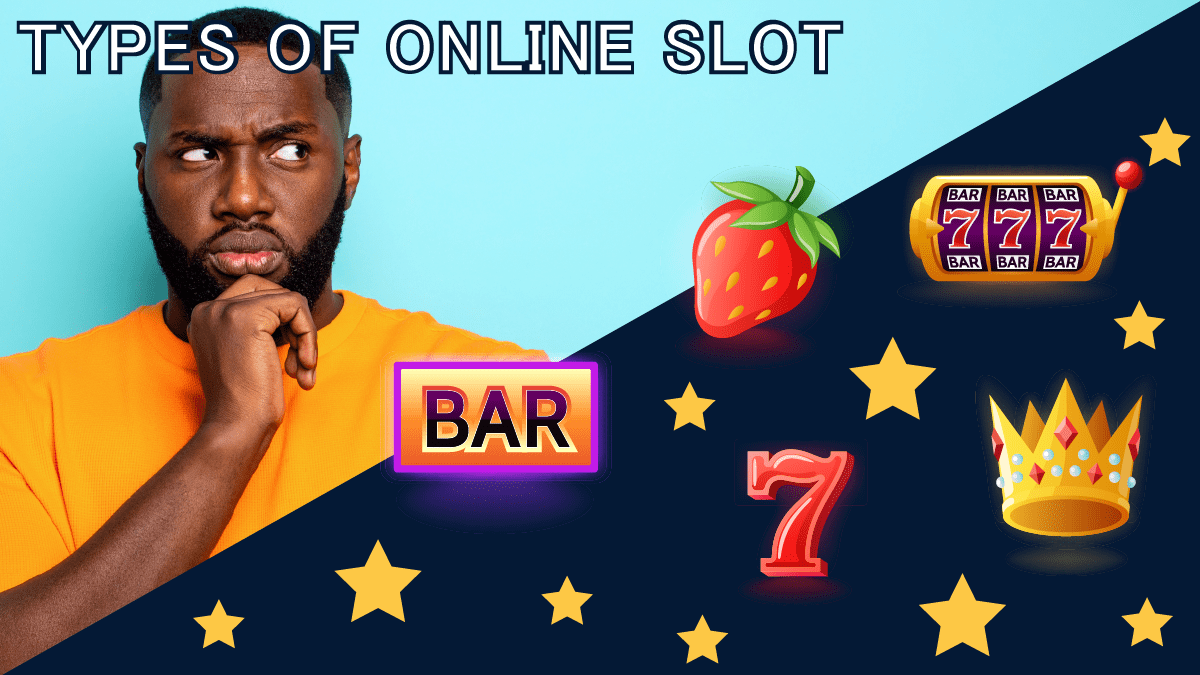 Fruit Machine
The fruit machine used to be a popular feature of cafes, bars and pubs across the country and now they are typically found in seaside resort towns. The fruit machine has largely been replaced by a video slot machine which given they take up the same physical space, a video slot machine can be packed with hundreds of games whereas a fruit machine has just one game. A fruit machine also has mechanical turning reels that need to be serviced and maintained by some visiting the physical premises.
If you spent any time in and around players of a fruit machine, they would regularly tell stories of the payouts and that the next jackpot was due imminently or it was 'ready to drop'. These stories probably add to the perception that a slot machine has a set payout schedule and in order to win you simply has to time it right. Even if you have never played a fruit machine you will know the classic symbols on the reels, cherries, melons and oranges, which is where the name fruit machine originated from.
Some of the features of the fruit machine enabled you to hold or nudge a reel and you won by matching 2 of the 3 reel symbols, or all 3 symbols in order to trigger a prize. As the name suggests, nudge would allow you to nudge a symbol down and a hold would allow you to hold a reel in position for the next spin. As fruit machines evolved the 5 reel fruit machine also emerged which offered players more pay lines and opportunities to win.
The wild symbols also featured on the fruit machine and some even had the capabilities to offer bonus features should you match enough wild symbols on a reel to do so.
Classic Slot
Classic Slot machines are based on the same concept as a fruit machine the main difference is that rather than having mechanical reels this slot type is electronic and featured a video screen. You will often see the term classic slot and fruit machine used interchangeably but it's not strictly true. You can't play a fruit machine at an online casino but you are able to play a classic slot game.
Usually, when someone is referring to a classic slot they are talking about a 3 or 5 reel slot game, with wild symbols and very simplistic bonus rounds. One of the main reasons players enjoy the classic slot is the gameplay is relatively simple and it's easy to understand the paylines. You match the right combination of symbols in the middle of the screen and you win.
Video slots can bring an element of confusion as they can have multiple paylines with some boasting as many as 1024 winning combinations. That's a lot to get your head around!
Video Slot
Video slot games have taken off in recent times and are one of the most popular types of slot game in both land-based and online casino sites. Video slot games come in all shapes and sizes and give players the most choice. A video slot can have up to 7 reels and offer players as much as 1024 winning combinations which is what makes them so much fun. Video slot games have polished graphics, excellent animations, sounds and many come with a story to accompany the gameplay.
Over the years slot game makers have partnered with popular TV shows and movies, such as Ant And Dec's Saturday Night Takeaway, to create a slot game even the legendary band Guns & Roses have their own slot game.
Despite seemingly being complicated the video slot is still played in the same way as the fruit machine or the classic slot you simply bet, spin and win.
3 reel slot games
3 reel slots are based on classic slot games and fruit machines. This is the simplest form of slot game, it consists of 3 reels and the middle line is the pay line. A player bets and hits the spin button, when the reels stop spinning if any of the reels match the winning combinations the slot machine pays out.
5 reel slot games
Also known as video slots 5 reel slots are one of the most popular types of slots game given that they have up to 100 paylines so gives you more mays to win at a slot game. The games typically feature the wild symbols and the scatter symbols which all add to the fun and excitement of the gameplay. These additional symbols can be used in combination with other symbols within the game to provide more ways to win, which is why video slot games are so popular.
We've pulled together what we think are the best video slot games as the list of video slot games runs into to 10's of 000's and it can be a little overwhelming. With the extra reels and multiple paylines, video slots can be confusing if you have never come across them before. The great thing is that you can see the payable before playing the game which will help you understand which combinations produce wins.
7 reel slot games
7 reels are the most reels that you can have in a slot game. They aren't as popular as the 5 reel or 3 reel variation of the game however they have a massive following because they feature the most paylines of any of the other slot game types and are filled with a constant stream of action and activity. Their biggest asset is also one of the main reasons why they aren't as popular as their 3 reel or 5 reel equivalents in that you can sometimes feel a little overwhelmed with what is going on.
Mobile Slot
A mobile slot game is a video slot in the palm of your hand. Mobile slot gaming is now the most popular way to play a slot game and most slot game makers have created their games to work on a mobile device or tablet. All the slot games mentioned on this page, other than fruit machines can be played on a mobile device, mobile slot gaming will only continue to grow as more people get online and a mobile device is their preferred way to do so.
3d Slot
3d slot games show how video slot games have evolved and 3d slot games are the next incarnation of video slots. 3d slot games play pretty much the same way as video slot games only the characters are in 3d.
3d slots are a welcomed addition to the variety of slot games that are available with Bovada offering the most 3d slot games right now.
iSlot
You may not be familiar with what an i-slot game is but i-slot games offer players far more interaction as you can develop your own storyline as you play the game by spinning different combinations of reels. You can also move through the game by taking part in an adventure in order to move forward.
There's plenty of bonus rounds in an i-slot game and even if you have a tried and tested slot format that you like best, it may be worth trying something a little different. Guts casino currently has a good selection of i-slot games for you to try out.
What is RTP?
RTP is a big factor when choosing a slot game, it stands for 'Return to Player' and it's the amount that the game will pack back to the players when playing, it's usually in percentages and it's something that is shown by every slot game by any casino site available today.
The usual method of calculation is
Progressive Jackpot Slot
Progressive slot games are a network of games coming together to combine a jackpot and therefore increase the overall size of the jackpot. What makes progressive jackpots so appealing is if you are lucky enough to win one of these they can make you a millionaire. A jackpot will always depend on the number of people playing the game, which at smaller casinos means that the jackpots will never be that big, however, a smaller casino can license a progressive jackpot game which then brings together multiple casinos sites together. This pooling of funds is what makes progressive jackpots so popular with slot players.
The company to first come up with the idea was slot game maker Microgaming who incidentally holds the Guinness World Record for a slot game jackpot of £13,209,300 Back in 2015 Jon Heywood from the UK was the fortunate winner whilst playing the popular slot game Mega Moolah
You may also want to read about: