Sky Bet Accumulator Guide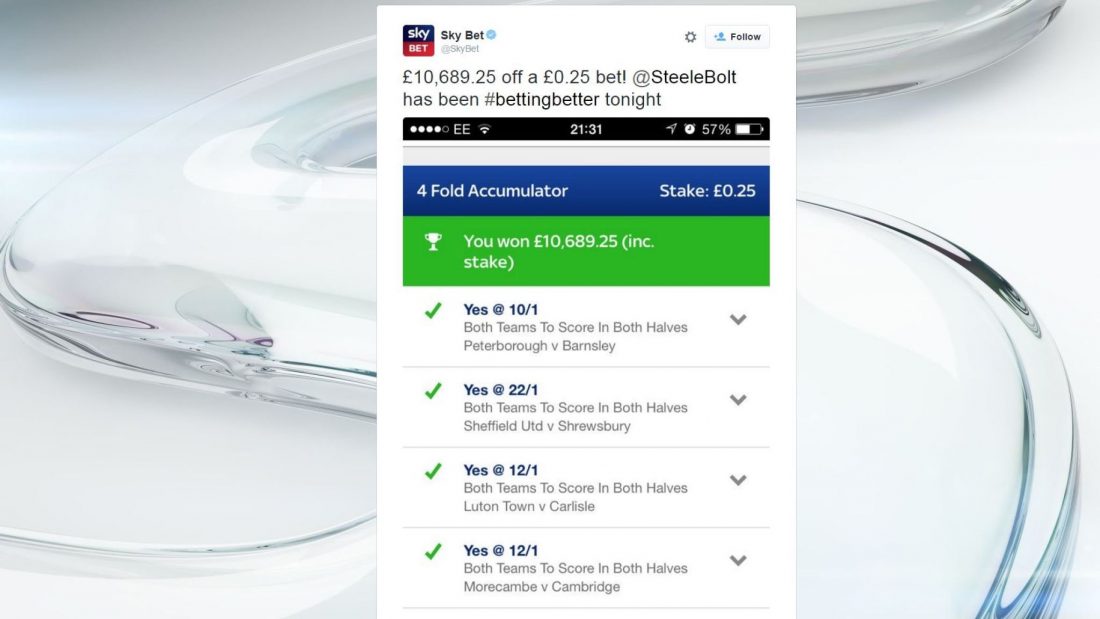 Placing an accumulator bet on Sky Sports is very easy and, thanks to a simple step-by-step guide, we will demonstrate you precisely how to do that in this guide.
Here's How:
Firstly login to your account or if you don't have one check out the latest exciting Sky Bet Promo deal on offer
Find the sport you want to place your bet on using the main menu down the left
Once you have found your choice click the odds to add to the slip.
Repeat 2 and 3 to add more selections to your betslip
In box marked 'Accumulator' on slip enter stake and then click 'Place Bet'.
Placing Your Accumulator Detailed Guide
Step 1
Logging into your account is the first step. You can use the browser or app to do this on your PC, Mobile or Tablet.
Of course, you should just proceed to Step 2 if you've already logged in.
Step 2
Using either the' Quick Links ' option in the left column bar (which links to the most popular sports betting markets) or the' A-Z Sports ' list, which lists all the sports on offer is the easiest way to place your acca bet.
Let's say we're going to bet on the Premier League darts. We can either use the quick link to the Premier League darts menu (when it is active) or access it through the A-Z darts listing option.
You can open your range of betting alternatives by clicking on either option.
Step 3
With Skybet, adding your choices to your bet slip is very easy. Simply click the name of your selection or the odds. SkyBet blocks the text and by clicking on it adds this selection to your betting slip.
You can now add as many other betting selections to complete your slip, and the next step is to place your money on the bet.
Step 4
Simply scroll down the bet slip until you see the listed accumulator option when all of your alternatives are listed and happy with it. Next we need to check how much your acca will return.
Enter your stake in the box by either entering the number in or scrolling through the up and down arrows. You will then see the choices you have chosen next to the returns column which will show you how much you're gaining if you wager your chosen amount.
Step 5
Once you're happy with your acca, all you need to do is click the' Place Bet' button. You've put your bet on now and it's time to wait for that victory!
You may also want to read about: