Crazy Time Slot Review – RTP, Features & Bonuses
Crazy Time is an Evolution Gaming slot game that was first released to players back in June 2020. Our Crazy Time slot review will take a closer look at what is included within this game and give you our opinion of the game from our time playing it. Continue on to learn more about the game's features, bonuses, and RTP.
How to play Crazy Time
Before you begin playing Crazy Time, you must first choose how much money you will be playing with. Players should only gamble with an amount that they feel comfortable playing with and what falls within their current account balance at that time. There are a vast range of stake amounts that you can select on Crazy Time, meaning if you like to gamble with big or small amounts you will be able to do both with this slot game. Use the autoplay feature if you want the game to complete a set number of spins for you at a set stake at the click of one button.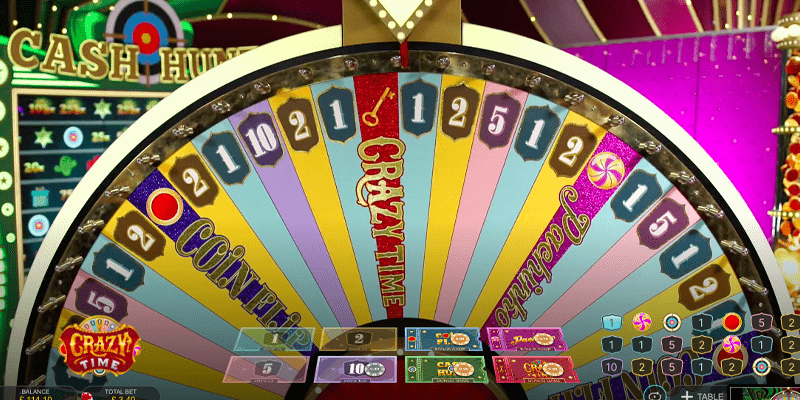 Crazy Time Slot Features
The money reel featured within Crazy Time has 54 different segments.
The maximum win available to players in Crazy Time is £25,000.
There are four additional bonus rounds included within Crazy Time.
Crazy Time RTP
Return to player or often shortened to RTP is the percentage winning return from the selected slot. The higher the RTP the more likely the slot will return money to the player, reducing the chance to lose while the lower the RTP is the more chance you have to lose. However, this often comes with much larger maximum wins and bonuses compared with the higher RTP slots available.
Crazy Time comes with an RTP rating of 95.5%.
Crazy Time Bonuses
As previously mentioned, there's four Crazy Time bonus rounds that are included within this game, the first of which is the Coin Flip bonus round. Here, you will see a coin featuring a red side and a blue side being flipped via a machine in the studio, with the winner being whichever side comes out on top. A multiplier will be randomly applied to the winning total.
Cash Hunt bonus round is the second bonus available in Crazy Time. Here, you will see a giant screen with 108 random multiplier amounts, all of which are covered by symbols. These symbols will then be shuffled, at which point you will be required to pick what symbol you think is hiding the highest value multiplier.
The Pachinko bonus round takes you into a Pachinko wall where pegs and pucks are making their way down the wall. This puck will land on a random multiplier amount, with multipliers potentially reaching up to 10,000x on this bonus feature.
Finally, there is the Crazy Time bonus round which is the main bonus feature of the game. You will enter a new world behind a red door during this bonus, where you will then be asked to select either a blue, yellow, or green flapper before the wheel is spun, and you will win whatever multiplier amount your flapper points to. You can even land on "double" and "triple" here, which will boost your multiplier amount by two and three respectively. The wheel spins again, where there is the potential to get up to a 20,000x multiplier.
Crazy Time Summary
With such huge payouts possible within this game, it's hard not to be impressed by Crazy Time and drawn into the possibility of playing it. The bonuses are without a doubt the standout feature of this game, while the unique nature of the game will ensure that you are left excited by Crazy Time and return for another go.