Moon Princess Slot Review – RTP, Features & Bonuses
Moon Princess is an exciting slot from Play'n Go that has been around since 2017, with it proving to be a real hit among those with an interest in the theme of anime. This free to play slot game is very much aimed towards a specific demographic but one that we still enjoyed nonetheless. Below, we will delve into the finer details of the Moon Princess slot including the RTP, features, and bonuses that are included within the game.
How to play Moon Princess
Getting started on Moon Princess is a very simple process, with it thankfully being an easy spin to play and access for even the more inexperienced slot players out there. Players should begin by selecting their preferred stake amount, going higher if you prefer to play for bigger prizes and choosing a low amount if you're there more for the fun aspect of the game.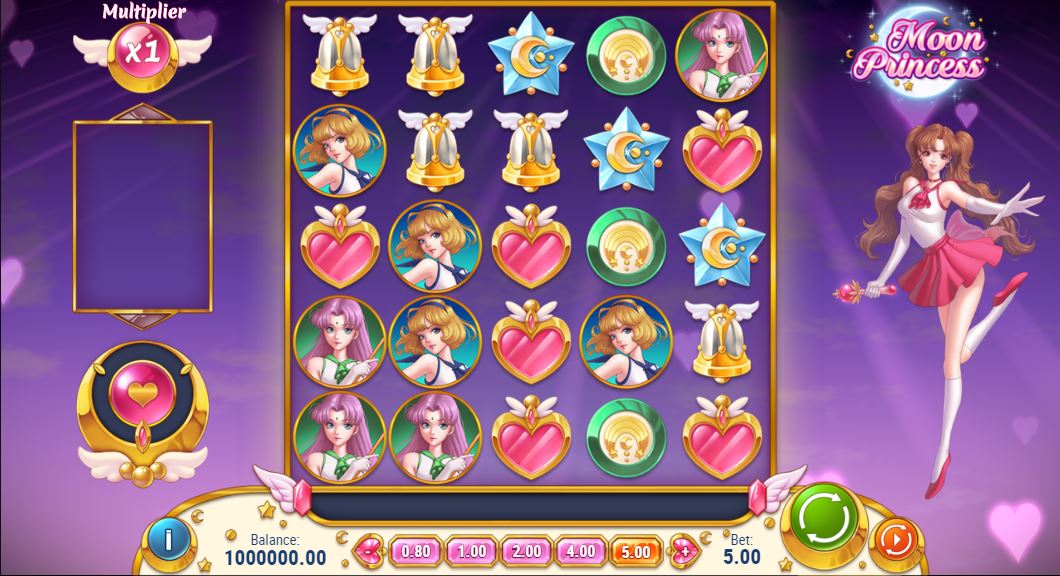 Players also have the option of choosing the autoplay button, which will see the game complete the spins for you consecutively without you clicking a button, all of which will be from a set stake.
Moon Princess Slot Features
The Moon Princess slot features a classic layout of three reels and five rows, giving you multiple different potential winning combinations.
There is a minimum stake of 2p per spin within this slot game and a maximum stake of £100 per spin, meaning those who prefer to play with bigger amounts are able to do so.
The maximum win available to players in this slot is £500,000, while the game also comes with a high variance.
All these features are great for playing slots, other similar slots like Honey Rush are great in terms of features.
Moon Princess RTP
Return to player or often shortened to RTP is the percentage winning return from the selected slot. The higher the RTP the more likely the slot will return money to the player reducing the chance to lose while the lower the RTP the more chance you have to lose but this usually comes with much larger maximum wins and bonuses compared with the higher RTP slots available.
The Moon Princess slot comes with an RTP rating of 94.51%.
Moon Princess Bonuses
Bonus triggers are what many people play slot games for and Moon Princess comes with a number of bonuses that can be triggered during your gameplay. The first is the Girl Power Feature. This sees all of the princesses featured within the game assist you with your spins through the following powers that will increase your bankroll:
Love Princess – A group of symbols transforms into another group
Star Princess – 1 or 2 wild symbols are added to the reels
Storm Princess – 2 groups of symbols are removed from the reels
The next is the Princess Trinity Bonus feature, which is won when players fill up the on-screen meter, which in turn is added to every time you have a winning combination with a princess involved. You are rewarded with a bonus spin and the three girls again take it in turns to try and increase your winnings by using their aforementioned powers.
Finally, there is the Moon Princess Bonus spins feature, which isn't all too easy to achieve but is extremely rewarding when you are able to do so. You'll have to clear the reels completely for all symbols to trigger the bonus spins feature, after which you get to choose one of the girl's superpowers to bring with you into the bonus spins feature, with the number of bonus spins that you receive also depending on what you choose from the following:
Love Princess Power with 4 Bonus Spins
Star Princess Power with 5 Bonus Spins
Storm Princess Power with 8 Bonus Spins
This feature also comes with a non-resetting multiplier that can reach as high as 20x your original prize amount.
Moon Princess Summary
We were left impressed with the work of Play'n Go with the Moon Princess slot, which hits a pretty solid niche and will be extremely appealing to a select group of people. There is a solid RTP rating with this slot, while the overall theme captures a market of growing popularity in modern times. There are also plenty of bonus features too, though the lack of a progressive jackpot but the opportunity to win up to £500,000 will appeal to high roller players.
You may also want to read about: