Mega Pyramid Slot Review – RTP, Features & Bonuses
What's better than a pyramid? A mega pyramid. Buckle up for this Egyptian casino game provided for us by Red Tiger Gaming. From free auto spins to scatters, get ready to put your name into the royal scrolls, right next to Anubis, as the lucky scarab amulet brings you Mega Wins, in a whopping quantum of 5000x your original gamble!
Although this is a popular theme, this particular slot stands out through its gorgeous graphics and high volatility, making it a head-spinning adventure down the Nile. Keep reading for info on gameplay and its ample rewards!
About Mega Pyramid Slot Game
When you'd think you've seen this classic theme one too many times, Red Tiger Slots delivered a casino game with outstanding visuals, ready to provide hours of entertainment and heaps of real money. It really does not get any better than this. I am so excited to share with you every bonus feature this online slot has to offer, packed in a comfortable 5 reeler game space.
Its sandy setting has us looking up at a glorious ancient pyramid, through some subdued transparent reels. The choice of game symbols is not that surprising, and it is exactly what you would expect from an Egyptian game. There's a gorgeous jewel scarab, Anubis, Horus, Pharaoh, Ra, etc. The low value symbols are the ones in the classic card suits. Every one of them is carefully crafted by the talented designers at Red Tiger Gaming and they are absolute eye-candy.
The music is great and it fits with the theme for an all-around robust experience. This online slot feels like Ancient Egypt if an online slot ever felt like that.
The game benefits from 30 paylines, with a new little bonus feature that allows a chosen symbol to clone itself along the reels, allowing for massive rewards. This is the Pyramid Eye feature, which you will recognize as soon as the eye at the top of the pyramid opens so YOU get a glimpse of those heaps of real money. More on this later.
How to Play Mega Pyramid Slot Game
As with most other slot machine games, the gameplay is nothing to get lost into. There is a spin button in the bottom right, and next to it you will find the Turbo button, which accelerates the spins. In the bottom left, we have the stake button, which you can set your stake amount with, using the plus and minus button. There is also an autoplay option which we will discuss a bit down below.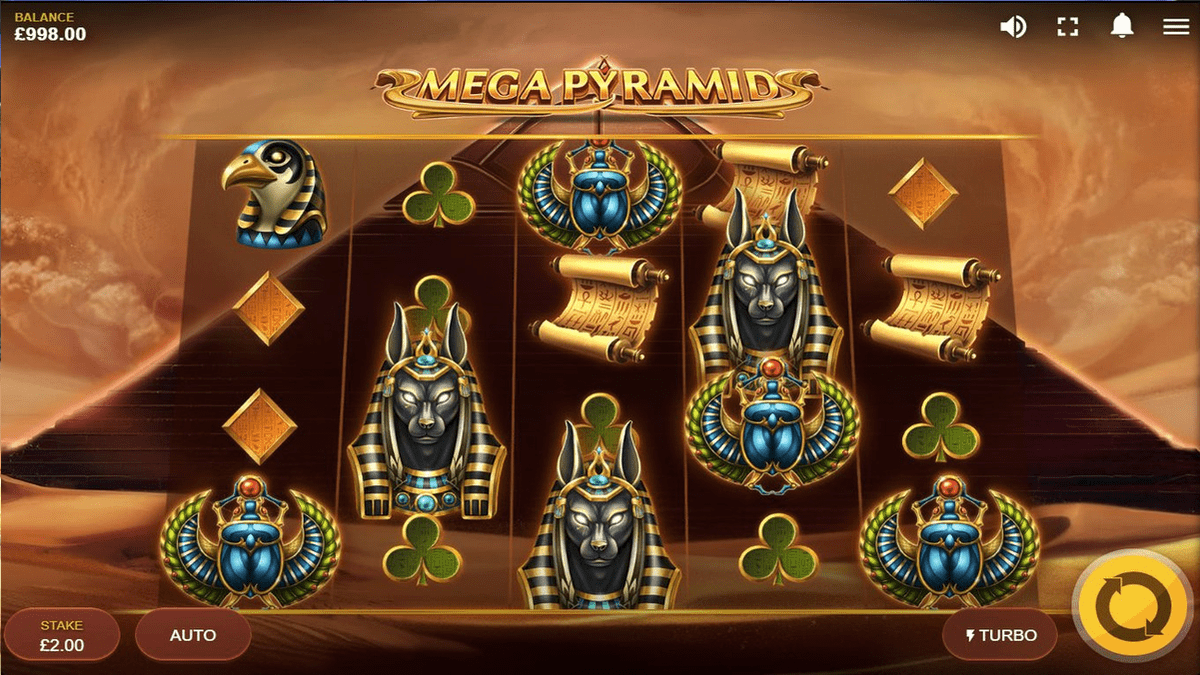 Interactive Features
As mentioned above, one of the most interesting features of this slot title would be the Eye of the Mega Pyramid. As soon as it opens, you will get 2 types of modifiers on your spins. It starts with the Eye of Providence, triggered during a random spin, without any input from you, which will open and shoot beams of light in random directions, then you will receive a random symbol, which will be cloned on the reels. If you are lucky and the special cloned symbols are high value symbols, you are on your merry way to undiscovered treasures.
You will be able to trigger the free spins with 3 scatter symbols, which need to appear on reels 1, 3 and 5. If only 2 have appeared that round, the Mega Pyramid eye could give you the missing scatter, so that is a nice addition. However, there is no guarantee that the third scatter will make a cameo.
What symbol triggers Mega Pyramid Slot Bonus Free Spins?
In Mega Pyramid, there are 10 symbols. There are 4 high paying symbols, 5 low value symbols, and the sticky scatter, the Queen. Being a sticky scatter, the Queen can stay on the reels for a random number of spins, making it easier to land a free spins bonus. When the free spins bonus hits, the gamer will get 10 free games. Not too shabby.
After the queen, on the royal alignment, we get the highest paying symbol, which is Anubis. There comes Scarab beetle and Horus afterwards.
I feel like you can't really get bored playing this slot, and the amazing graphics are indeed something to savour, but if you'd like the action to be a little bit more fast-paced, you have an autoplay option you can use to let the slot machine play on its own, after you set the number of spins you want it to go for and a loss limit.
Paylines and Stakes
The Pyramid bonanza benefits from 30 fixed paylines, which pay left to right, starting from the leftmost reel, with three of a kind being the minimum for landing payouts. The stake amount varies wildly from $0.20 to $100, giving you a plethora of betting options. This is really great for the casino industries, with the average maximum bet at around $25.
Mega Pyramid Slot Game Software
The development team for this exciting slot is no other than Red Tiger Gaming. They've surprised us with this daring new title, since we've seen the amazing 5,000x jackpot, a thing which was not exactly their cup of tea until now, with most slot titles ranging at about 2,000x. They're responsible for some of the leading titles in the casino industry, with slot machines games such as Lucky Fridays, or Wild O'Clock.
They're using top of the line technology and their developer team is full of the most bell-ringing names in the industry, so it's no surprise that this game is also available as a mobile slot so you can have the experience of the mysterious pyramid as a mobile slot as well (iOS or Android).
What is Mega Pyramid Slots RTP?
The RTP For Mega Pyramid sits at a fulfilling 96.18%. This could be better, could be worse. I feel that this online casino game has chances of decent wins, and it's definitely one of the better ones I've seen in the Slot World.
Summary for Mega Pyramid Slot Game
What a wild ride it has been down the Nile, into Ancient Egypt. This Red Tiger Gaming Release is definitely one of the jewels of their crown. Although some may argue that the theme has been used to death and there is no element of novelty to this, I feel like the atmosphere of the game is really worth it. The graphics are fantastic, the payout percentage is great, there's a couple of really interesting bonus features, you get sticky scatters and free spins and I feel it does not really get better than this.
However, I am a fan of ancient Egypt everything, and those who do also we recommend Cat Wilde And the Doom slots, so you may not share my vision. But that's ok! There's really nothing to lose in giving this one a try, and I promise you will not be disappointed.
You may also want to read about: