Mega Jade Slot Review – RTP, Features and Bonuses
Jade is considered the stone of Eternal Youth, and I don't know if anything screams "youth" more than a young millionaire, making it rain on their friends on a wild night out. If you'd like to be one of those and think the Jade stone could be your lucky crystal, you'll be delighted to read all about this Chinese inspired slot game, delivered by no others than our friendly developers at Red Tiger Gaming.
Complete with an amazing special symbol bonus, fantastic graphics, and the potential for massive wins, this classic video slot will take you on an unexpected trip to Ancient China.
Keep reading for an unbiased Mega Jade Slot review and let us know if we've inspired you to play the game as well!
About Mega Jade Slot Game
If we had to choose one thing that stands out about this game, it would definitely be the elegant, crisp graphics. It is obvious at first sight that the design team put a lot of elbow grease into this one. The jade symbols have golden rims and they shine so bright you could be blinded.
The backdrop is delightful, featuring the same shades of gold in intricate details and decorations, while the background was selected to be the richest, most royal shade of purple, similar to Imperial colours slot by Golden hero, Contrasting with the jade stones' deep green, this video slot is truly a feast for the eyes. The 5×3 reels are also gorgeously detailed with gold lining and a papyrus paper texture to complete the "Ancient Chinese Emperor" atmosphere.
The soundtrack and sound effects are also charming but subdued to leave some mental space for the carefully crafted graphic design.
How to Play Mega Jade Slots Online
With a design so decadent on the graphics side, it was only natural that the game play for this slot game is highly intuitive and the navigation is as easy as they come.
On the bottom part of the screen, you will notice a purple banner, on which the software developers added the golden spin button to the right. Next to it, you will find the Turbo Spins button, which you can use to speed up your game play. We've found this to be unnecessary, especially if you want to take in the stunning visuals.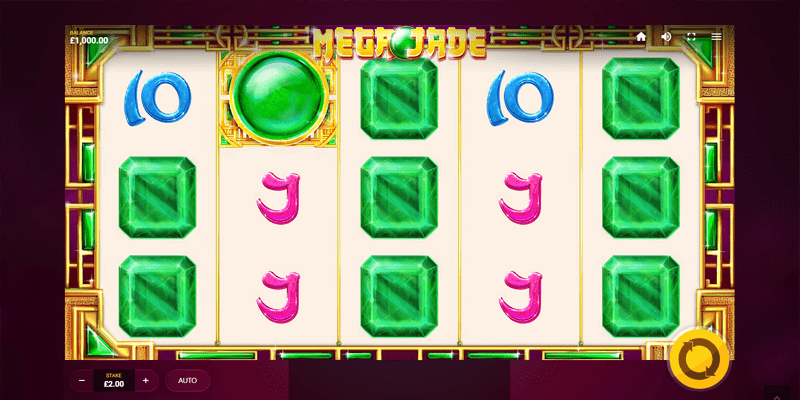 On the left side of the banner, you will find the total take option. Using the plus and minus buttons, you can modify your wager amount. That is also where you will find the autoplay options. Just click on the "autoplay" button, and a pop-up window will appear, from where you can set your desired number of spins and a maximum loss amount and have the game play for itself.
Mega Jade is another perfect gem/casino related game such as Casino Reels which is heavily based on casino gameplay.
Interactive Features
Our heart sank a little bit when we opened the Payout table to find a bold lack of features such as Free Spins, a progressive jackpot, a bonus gameplay session, or the like, but whilst playing the game, we were pleasantly surprised to find out that this video slot certainly does not lack in the action department.
This game's main feature is its huge, 3×3 wild symbol that can turn up at any corner and surprise you with a massive cash prize. If this colossal symbol lands anywhere on the reels, you are guaranteed to be in the books for a huge potential payout. Another thing to note is that all symbols pay adjacent in this slot machine game, so if you are lucky enough to land other identical symbols next to the stacked wild, you've hit one of the winning combos, and the cash reward will be even bigger.
This is not that much of a special feature, but combined with the fact that the wager size can go to as much as $100 per single spin, it becomes clearer that your spin winnings amount can go to the moon in the blink of an eye.
Personally, I think that the limited bonuses are a breath of fresh air and you should really not look past the adjacent symbols, since we've seen massive jackpots being won in similar games.
In terms of symbols, things are pretty straightforward. You have 3 high value symbols – the huge round jade gemstone being the highest paying of them all with an x500 multiplier for a winning combination of 5. The square gemstone follows closely with an x300 multiplier for 5 of them on a winning line. The last one is the jade stone, which will offer an x200 multiplier for 5 matching symbols.
The low paying ones are the common symbols, the playing cards suites, which offer payouts up to 200x for winning symbol combinations.
What symbol triggers the Mega Jade Slot Bonus Free Spins?
Unfortunately, this Orient inspired slot machine game offers no free spins, making it a simple slot to enjoy for a quick in-n-out, hoping for its massive jackpots to hit. We feel like the spin winnings can make up for this, and I, personally, did not feel the game is lacking in any way, and I did not miss this bonus feature that is so popular in other games.
Paylines and stakes
This reel slot, inspired by the Chinese Culture, benefits from 10 fixed paylines. Combined with the adjacent wins, this makes for a robust certain number of ways to win in the base game. Could be more, I agree. But simplicity seems to be this payline slot's forte, so keep an eye for the highest paying symbol or the huge gemstone symbol, and you will be all right.
In terms of staking, this simple game offers a range like no other. You can start up with bets as low as 20p, with the bigger bets having a maximum limit of $100. This allows for a bigger payout potential than I've ever seen. Definitely, a game to be enjoyed by both casual players and high rollers, as its wagering requirement is so vast.
Mega Jade Slot Game Software
The software for this slot machine was developed by the Eurasian studio Red Tiger Gaming. They are well known already for delivering a plethora of fantastic titles, with some things in common – fantastic, responsive gameplay, breathtaking visuals and cut scenes, and most of all, huge jackpots.
This video slot is not different – the game works beautifully on desktop and all mobile devices. It is very responsible, and it never crashed, bugged, lagged in any way. Top-quality as always in terms of development for this casino slot.
What is Mega Jade Slots RTP?
The RTP for Mega Jade sits at 96.1%. This stands for Return to player rate, and it means how likely is the game to deliver a winning combination. The calculated maximum multiplier of the game is 888, which is a nice little detail, as the Chinese considered that 8 is the luckiest number out there.
Summary
While we understand that some players prefer games loaded with special features and mystery prizes, Mega Jade hits the nail on the head for those of us who prefer the classic feel of a simple, well-designed slot machine.
Simple winning betlines, the potential for a huge cash prize always around the corner, the frequency with which the player gets spin winnings, and especially, the classy, elegant feel of the game with its lovely graphics and music make this slot one that will pass the test of time and be a cult favorite for years to come.
You can't go wrong with simplicity, and this is exactly what Red Tiger did with this one. A true swing and a hit in the online slots community.