Mayan Gods Slot Review – RTP, Features & Bonuses
Come around, conspiracy theory aficionados, Action Bronson fans and people who told their friends that the aliens built the pyramids one too many times! You will have a blast with this new Red Tiger Gaming online slot, and you will find your place amongst us, the ones who are still searching for the lost city of Atlantis through Youtube queries. You will be able to sightsee ancient ruins, UFOs, Mayan Gods and the all elusive Mayan King, said to have lived thousands of years, who will bring you a thousand years worth of gold.
Every one of the four Mayan Gods has a unique special power which they will bestow upon you, so you feel the godlike, ancient blessing. If you are lucky enough to land the Mayan King, he will act as a 2×2 Wild symbol, while also bringing some additional Wild symbols to the table for a chance to huge returns.
Keep reading for an exhaustive Mayan Gods Slot Review, guaranteed to have you hunting for aliens in no time!
About Mayan Gods Online Slot
I am sure by now you pretty much gathered the theme of this online slot game. Like many online casino games, it's set deep in the jungle, accompanied by Tiki Totems, the symbols will fall, each on its own stone block, on a 5×3 reel, while you will benefit from 20 fixed paylines.
Every symbol is carefully carved into a stone slab for an authentic temple feel.
Frankly, the graphics are not necessarily something to get excited about, but the air of the slot game is somewhat detached and cheerful – like you would expect from a slot game that capitalises on a well-known joke in the online community. However, once you land a winning combination, you will be able to see the cascading tiles fall upon each other with stunning animations.
The symbols, as well as the colour palette, are somewhat cartoonish, and I must confess that I was in a positive mood while playing it. What this slot game lacks in artistic execution, I feel it makes up in a compelling gameplay and meme value. It plays on a joke and it is sure to make you laugh (or, at least, exhale loudly through your nose).
Progressive Jackpots
In this exciting, non-progressive 5 reeler online slot game, so no progressive jackpots up for grabs here but you are brought the unique chance of a 6,000x jackpot with every single spin, which is the maximum possible payout in this 2018 slot title.
One of the sweetest bonus features of this game is that with every winning combination, you will get a multiplier as more symbols fall from our alien friends.
This makes a great addition to the online slot game since it feels like every winning spin has its own little Free Spin companion, giving you the most bang for your buck. You will be able to see below that there is no actual Free Spin bonus feature in this game, but you will not miss it. There's really a ton of fun with every spin and you are guaranteed to never get bored or feel tempted to hit the Auto button since something is happening all of the time.
How To Play Jewel Scarabs Slots Online
The navigation is pretty straightforward. Although the setting is in the jungle, you really cannot get lost.
The big, golden, round button at uttermost right indicates the start of the playing session. Right next to it, to the left, you will find nestled the Turbo button, which increases the speed of the online slot. You can't miss it, it even has a little lightning bolt symbol on it. Thanks, Red Tiger Gaming!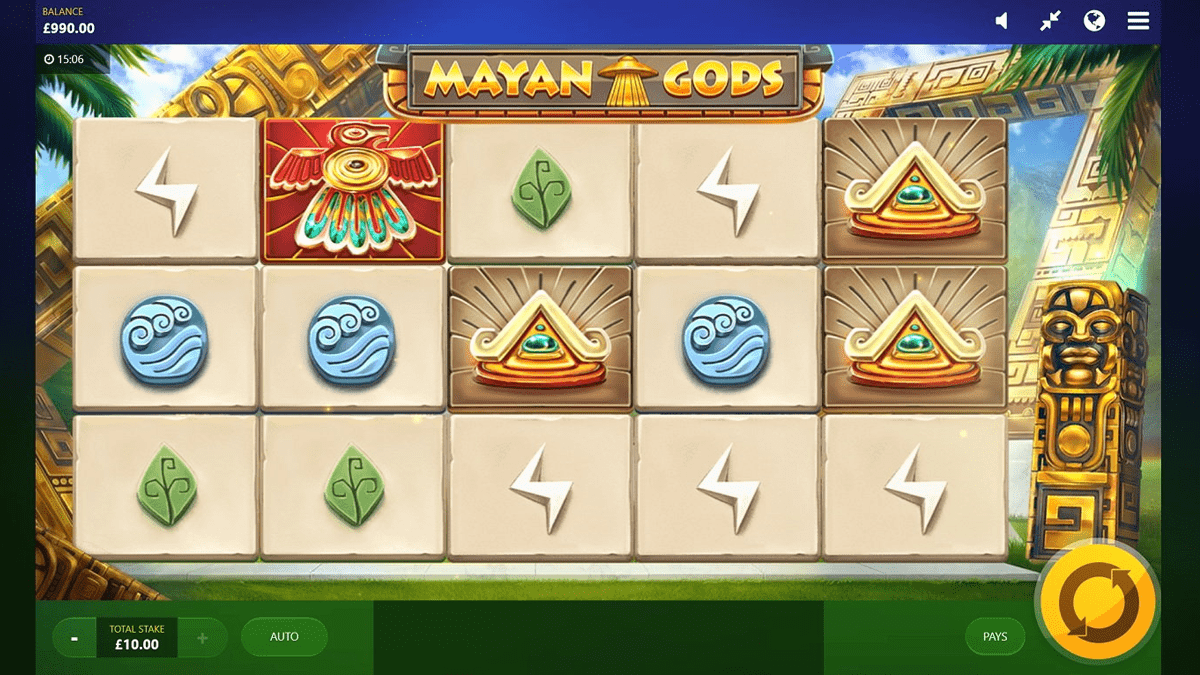 Further left, you will find the stake option, cuddled between the plus and minus symbols, and this is, obviously, where you place your wager. Right next to it, you will also find the Auto button. This lets the online slot spin automatically so you can just sit back and relax, or maybe keep your eyes open for those elusive UFOs.
The ancient aliens enthusiasts can play this online slot on desktop, or on their mobile phones (iOS, as well as Android) for a chance to win real money on the go.
Game Symbols
Keep a peeled eye out for the four Special Symbols in this slot game:
The Mayan King, who turns into a Mega Wild.
The all awaited 2012 Mayan Eclipse, who will turn all symbols in its range into one symbol. The old blocks are annihilated, while new blocks fall and bring with them the potential for huge payouts. You read that right. This will hopefully warrant you new winning combinations for a chance at high returns.
The Mayan UFO, will come abduct all low level symbols and give you high paying symbols instead. This bonus feature is a real sight to be seen, as it will also provide new winning combinations so you basically never stop winning. You can understand why there are alien carvings in all the ancient temples, these guys were awesome.
The Mayan Shaman, who will use his weird connections in the lands of the dead to increase your multiplier for the next re-spin. This is really important because there is no limit to how high this multiplier can go, therefore real money will roll into your bank account faster than you can say Aztec.
They all work together to bring you bigger and bigger wins – thanks to the generous multipliers your winning combinations will be satisfactory every time.
More on these below. Keep reading!
Bonus features of Mayan Gods Slot Machine
While trying to spot those golden flying saucers, keep an eye out for the Mayan chain reaction, as well. This one will let new winning combos to replace the new random tiles, in a cascading reels motion and with every winning combination, or "free respin", the multiplier increases from 3x in this mobile slot.
Are There Any Free Spins?
Here are some bonus features of this online casino game that will bring you huge rewards. Starting with some bad news, you will quickly find that this online slot does not have a free spins feature or a bonus game feature.
A bit disappointing, I'd say, but maybe they did not have free spins in the time of the Mayan Gods?
However, this will not phase you too much, since this slots game is filled with a lot of additional features and winning symbols plus high value symbols, wild symbols, and more.
Wild Symbols
The Wild symbol is a big, bad, mean gold and teal jaguar, who will warrant 500x on your stake with 5 on any payline, but there are no extra wilds. You catch the jaguar or you don't. But don't be fooled, since there's a lot of extra features you will be able to uncover, and even if the Wild symbol elludes you, you have great chances at huge rewards in this fun online slot, with the plethora of higher value symbols, and the bonus features we've talked about a bit earlier. Every given spin holds the possibility of being a successful spin, which means great winning potential for you – even if you're part of the high limit gamblers, or a "hobbyist".
Between the jungle vines, you will be lucky to land some higher value symbols, such as a green and yellow swirl ball, a golden pyramid and a red sun. When landing 5 of the former matching symbols, on any payline, you will get 500x your stake. Not really the end of the world, eh? The same rings true for 5 matching symbols representing the red puma. And we know the jungle is full of those.
Some other, low value symbols include a green leaf, pink wind, a thunderbolt and more, just waiting to be discovered.
Scatter Symbols
There is no scatter symbol in this online game, but this will not pose any obstacle for you climbing the ladder of winning combinations, right into the perfect game territory.
Between all of these, you will forget there is no free spins bonus feature, no bonus games and no scatter symbol and will just let yourself slide into the deep jungle, filled to the brink with winning combinations. Just wait for the Mayan Gods chain reaction and let real money descend on vines right into your pocket.
As for the entry ticket into the Aztec jungle, or as you may call them, betting limits, you will find that the minimum wagering requirement is 0.20, and it goes up to 10 for the maximum bet, and I feel this is a comfortable betting range.
What Is The Mayan Gods RTP?
All in all, I think Red Tiger Gaming did a number on this one. I had a ton of fun playing it, and my past time was all the more gleaming in gold thinking of the medium-high volatility of this game, warranting huge rewards, even with lower stakes.
The RTP (return to player) rate for this one sits at a nice, robust 96.11%, while the house edge for the base game sits at 3.89%.
Summary for Mayan Gods Real Slots Review
I had fun. It was quirky, I was always on the edge waiting for an exciting UFO sight with every given spin and this online slot really played the chord of my inner conspirationist and history aficionado.
I've enjoyed the slight safari feel of it all, while I was waiting to encounter 5 red pumas or the mysterious Wild symbol, the golden jaguar. Whenever the UFO made an appearance in my betting action adventure, I could feel myself smiling and not only because it brought forward high returns, but because it was a nice twist. I did not expect a Mayan eclipse with such religiosity since 2012.
The only difference is that this time, this Mayan eclipse is said to bring consecutive wins, rather the end of humanity as we know it. This is real life slots magic if you ask me.
Mayan Gods Real are a perfect choice for those wanting a god/king themed game, similar to Reel King Mega slot which is similar in theme.
Anytime I'd make a winning spin on online casino sites, I'd jump in place so I would say this slot game is really worth playing if you share my love for its character and are ready to experience a bunch of winning combinations. Paired with the chance to win real cash with every single stake, I would say this is one of my favourite slots.
There's a ton of high paying symbols, the return for the Wild symbol is fantastic, as well as for the selected matching symbols. One quick spin could have you 6,000 x wealthier, and the increasing multipliers make this a game perfect online slot game.
If you feel you might share my experience, jump into the deep Aztec jungle for the chance at high returns with every winning spin. Overall this is a fun slot game to play that offers up a great chance to win a big jackpot when playing this real money slot game.
You may also want to read about: