Masquerade Slot Review – RTP, Features & Bonuses
Out with the carriage and the tuxedos, tonight we party in style! There's something special about a Golden Royal Masque, hiding a pretty face in a dimly lit ballroom. The mystery, the Victorian air, and the golden gleam of the decor will have you sipping some expensive wine for the sake of it, even if you're to play this online slot from your living room one lazy afternoon.
Magic winning combinations, classy graphics and select opera music will keep you glued to your desktop or mobile (iOS as well as Android) while playing this video slot, and you feel like a million bucks, well past midnight. This being said, I invite you to a Venetian masquerade ball, where an elegant, lucky Masked Lady will have you head over heels in this new 2020 slot machine game. 
Keep reading for all the info on the potential jackpot, winning combinations, special jackpot symbols, and more!
About Masquerade Online Slot
My, oh my, what a delectable journey we've had to Venice with this slot machine game. The one thing this video slot excels at, above all doubt, would be its classy feel. As soon as the base game makes an appearance in your browser or mobile device, you are welcomed by a shiny golden masque, luring you into the ballroom.
Massive golden, carefully detailed columns encapsulate the 5 reels, making you feel like you've just stepped into a royal palace. The background features a dimly lit passageway, how you would expect from a late night promenade through Venice.
The music and sound effects are tasteful and subdued, but they do not miss the wow factor. As you progress through the night, bewitched by the Masked Lady, the orchestra accompanies you into the land of exuberance. Have fun in the ballroom, but do not forget that your main goal is having the redheaded femme fatale grant you the last dance of the night, so take her hand and let her guide you to impressive wins.
How To Play Masquerade Slot Game
The navigation in this slot game is not super hard to figure out. Once you press the play button, you will be taken into the ballroom. At the base of the steps, on the right side of the screen, you will find the golden Start button. Next to it, there is the Turbo button which will speed up your gameplay if you are impatient. In the left side, there is the total stake, with its adjacent plus and minus signs. There is also an autoplay option, which will prompt you to choose a maximum number of spins, as well as a lose limit.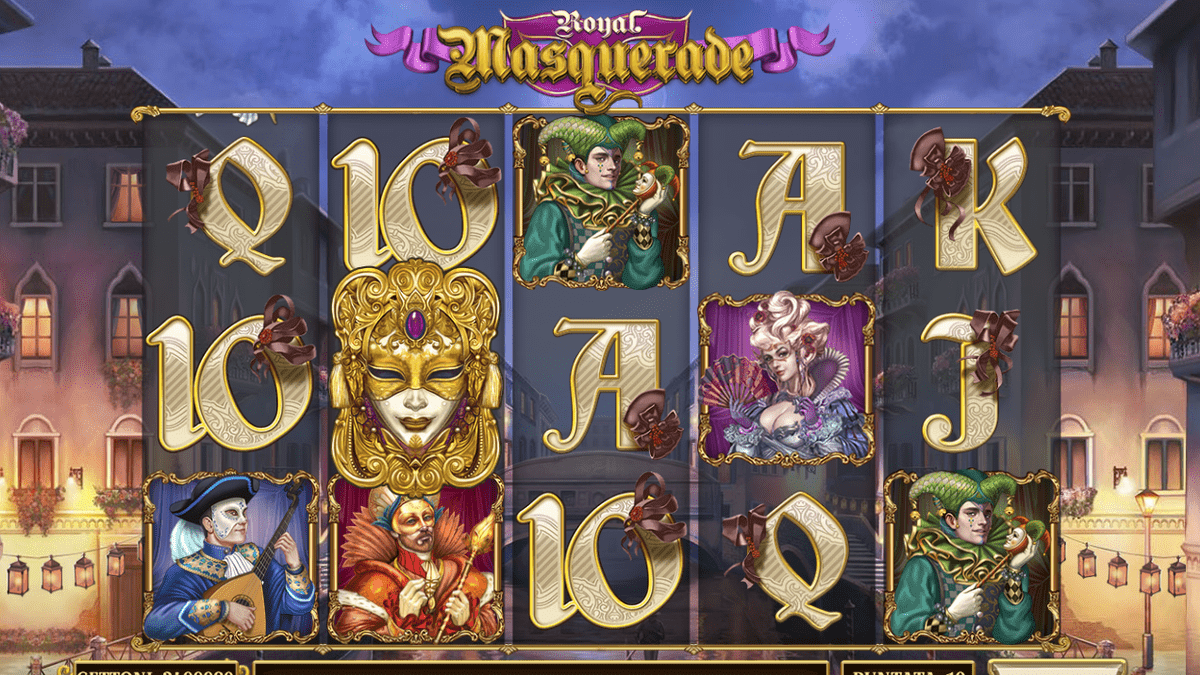 A winning spin would be considered one in which 3 or more higher value symbols or regular symbols land together on any of the adjacent reels. There are no bonus spins or free spins with this one, but the plethora of special symbols will bring you a decent return, and if you're lucky enough to land
Interactive Features
The most important of the higher value symbols would be the all elusive red headed Lady. If you can manage to land 5 of them on any of the paylines, you hit it big and you will become the high roller of the ballroom, with winnings as impressive as 1,000x!
As Masquerade is a Victorian-based clue hunt game, like R7 Studio's Golden Cryptex, is one of only a couple of R7 studio designs, so when R7 releases a slot game is bound to be great.
Game Symbols
Apart from that, part of the special symbols makes the rings. 5 of those will bring you a winning spin of 500x. Getting 5 symbols depicting the golden pocket watch will give you 300x of your overall bets, and 5 top hats will payout 250x in this beautiful slot.
A thing to keep in mind is that all wins pay adjacent, so there are great chances of guaranteed wins.
Since class is, by definition, subdued and tasteful, you will find that this slot game is somewhat conservative, in the sense that there is no free spins or wild symbol, which means that not every spin will land you a winning combination.
However, as it is the case with balls, the night can be pretty uneventful until midnight, when you get the chance to get a glimpse of the golden mask! This "multiplier" icon can appear stacked wild on the reels pretty often, and it will then turn into one of the card symbols, or – more excitingly – one of the special symbols, exponentially increasing your chances of scoring a winning combination. But what is a Royal ball without a touch of mystery?
And speaking of Royal, once in a while a giant Royal Masque will appear stacked on the middle 3 reels, providing guaranteed wins leaving you with the sole task to collect your real money.
The card symbols will provide decent earnings ranging from 0.3 to 15x your overall bets.
And speaking of betting ranges, it seems like entry is not an issue with this ball, with the right connections, since the betting range varies from as low as 0.01 as a min deposit, and it goes all the way up to 25. Everyone is welcome to try out their luck with the red headed lady, from rookie to high roller of the online casinos, since the wagering requirement is really not that high.
Are There Any Free Spins?
One thing we dislike about this game is the lack of triggers for free spins. No bonus feature means the devs at Red Tiger Gaming wanted to keep this one classy and subdued, which we can understand. There are also no extra wilds, apart from the Royal Masque, but we do get in turn a bonus round to make the gameplay a tad more enjoyable. Not that this high variance online slot needs any help.
I feel that, even without the free spins feature, the developers at Red Tiger Gaming did a number on this one. It is filled to the brink with gamble features; several bonus features, so I feel this one exudes true quality. It can provide big wins, has an alluring fixed jackpot and even without those free spins mentioned above, I think that the atmosphere of the game is indeed an instant reward.
The gameplay draws you in, and if you feel extra lucky, you can dance and dance until the Golden Mask makes an appearance on the dancefloor. Your patience will be rewarded with an impressive cash balance, even with a low deposit amount.
What Is The Masquerade Slots RTP?
From a risk/reward perspective, this is not as impressive as some other selected games, but with a significant number of jackpot icons luring from behind the spin button, you might just hit the daily jackpot and win a cash prize!
This slot game could be considered a medium to high volatility since the RTP (return to player) rate sits at a robust 95.22%.
Progressive Jackpots
There is no progressive jackpot, but there is always a chance that some of the high value symbols will land on the payline slot, bringing you some bonus funds.
Summary for the Masquerade Slots Review
Playing casino slots has never been so grandiose, in my opinion. The game makers have included expensive gowns, gold everywhere, a definitive class act from our trusted game provider. They've always brought great themed slots forward, but I was impressed at the ability to depict the air of a Venetian ballroom right into my iPhone.
This online slot would have been the king of them all with the added feature of more bonus rounds or free spins, but we are just nitpicking at this point.
Fantastic title, great chances at some bonus cash, and who are we to deny ourselves the pleasure to experience such elegance in a mobile slot?
You may also want to read about: