Jewel Scarabs Slot Review – RTP, Features & Bonuses
Whether you agree with archaeologists on the ancient Egypt timeline or not, it is a well-known fact that scarabs were the most popular amulet form in the times of pharos, said to bring good luck and prosperity. Come make your own luck and win real money with this all-time classic casino slot game and let everyone know why you should get your very own pyramid. This 5×3 high volatility slot game is an all-time favourite and with its new and refreshed image provided by the talented devs at Red Tiger Gaming, is guaranteed to take YOU for a spin!
Score 3 shiny jewel scarabs for a bonus Free Spin where the game's multiplier will increase +1 for each win! More than a scarab on a win line will multiply with his friends to bring you wins of over a whopping 10,000x! You can see now why all ancient diplomats had these shiny little amulets on them at all times. Apart from its premium symbols, there's a lot to be won with the low level symbols as well, so you cannot get bored playing really any hand.
Keep reading for more exciting features and instructions on how to play!
About Jewel Scarabs Online Slot Game
Ancient Egyptian mythology tells us that every day, Ra, the god of the Sun, and his nemesis, Seth battle on the celestial dome bringing us the day and night. Watch one turn into the other while you venture in the land of untold ancient riches, generating wins with this fresh out of the oven themed slot. The eye-catching, high-quality graphics of this non-progressive game depict well known Egyptian symbols, such as the ankh, the Eye of Horus, cats and other Royal deities, such as Anubis and Bastet and, of course, the sought after jewel scarabs will guide you to the elusive river of gold. In the background, you will be able to see a Camel Caravan moving towards the mighty Pyramids, as you move towards the hidden treasures of ancient Egypt.
The theme of the 5 reeler game is indeed tasteful – a combination of deep reds and navy, combined with the sheen of the gold used for the matching symbols, reminding us of decadent sunsets reflected in the gold-covered pyramids. It really does not get more elegant than that.
The music is exactly what you would expect, and we are here for it. There has not been a game where the fitting, subdued music fits so well with the theme, in an all-around delectable experience.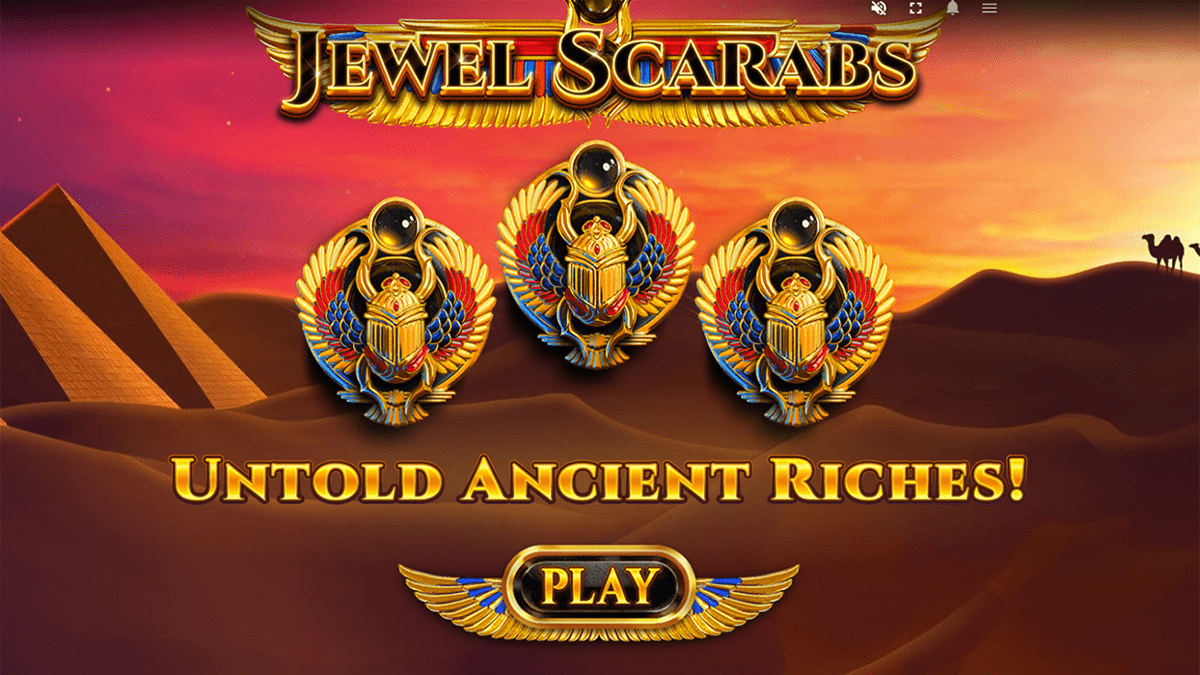 How To Play Jewel Scarabs Slots Online
Now that you've been sold on the quality, let us go through with some instructions. Thanks to the JS and HTML5 technologies, this game can be enjoyed both on desktop and on mobile (android or iOS), with no download necessary. The mobile version does not miss a thing of the desktop one, so you can enjoy the same thrill on the go.
As mentioned before, it features 5 reels, 3 rows and it benefits from 9 fixed paylines, which pay left to right, starting at the uttermost left reel. The minimum bet is as low as $0.20 and goes all the way up to $10 for a spin. Set your desired spin bet, and wait for the wild symbol!
The game is overall straight forward, so you will have no issue navigating the interface. The big yellow button at the uttermost right indicates the Start button of the playing session. Further right, you will find the Turbo button which speeds the spinning reels until a combination is landed.
You can place your bets at the left of the interface, where you will find the Stake option. Use the plus and minus symbols to increase or decrease your wager. You also have an AUTO button that you can activate and let the machine play on its own, while you relax and let the Egyptian Gods take the wheel.
The scarab symbol is, obviously the higher value one, acting as both a Wild symbol and a Scatter symbol, closely followed by Anubis and Bastet on the value ranks. The Hawk and the Eye of Horus bring medium-sized wins. There's also 10-A playing cards which, in the right combination can bring smaller wins. Do not be fooled, these add up quickly! More details on the winning combinations below.
Keep an eye on three or more scarab scatters as they can bring you a treasure trove when landing anywhere on the reels, but most importantly, have fun and take in the magical history experience and the wins will follow.
Jewel Scarabs Special Features
This cult classic is filled to the brink with special features. As soon as the little shiny bug makes an appearance, if it is part of a winning combination, however small, it will remain on the reels for the following spin, changing its place to a new cell. The Wild scarab symbol will then stay on the reels for as long as you can keep a winning streak which includes it. This holds true for any number of jewel scarabs that might appear, so if you ask me, it is a pretty sweet deal. Bonus rounds for everyone!
Three little scarabs will trigger the Golden Spins feature, which is basically a rebranded Free Spins feature. Of course, the three lucky symbols will then remain on the wheel for the duration of the Free Spins feature, but they will move to a random position for a random number of free spins. This bonus feature is your zone, where the biggest payouts are usually conducted in an online casino. Your chance of winning a big increase the more time you spend in the Free Spin feature.  Apart from all these, every time a Wild card is included in a winning combo, the Wild multiplier will increase by +1 and that is your golden ticket to a huge payout. And this is definitely not the only winning combo you can expect to see in this free play game.
You can expect a payout of 20x the minimum stake for the wild scarabs or Horus, 15x for the cat, 10x for the hawk, as well as 5x down to 2x for the full line of playing cards. Amazing bonuses if you ask me.
You can also open the paytable at the beginning of your slot machine session so you can be reassured of winning combinations, as is the case with the majority of online slots. You will also be informed of the remainder of wild features this casino favourite has to offer, the multiplier value and much more!
RTP figure for Jewel Scarabs
The high volatility of this game is probably one of the main reasons you will want to check it out. Your fortune can turn in the blink of an eye, and with a great 95.77% RTP (return to player) rate, you can sit back and enjoy the experience while the ancient gods work in your favour and bring you winning spins. There's really nothing more thrilling than knowing you have a great chance of turning five thousandfold profit on your spare change – a thrill this game has to offer due to its 5,000x jackpot on every single spin.
Summary
While it is true that the theme of the game seems inexhaustible, and some of you might have had dates with ancient Egypt before in online casinos, the developers of this 2020 version have always delivered on their final products, and there is nothing more with a well made classic once in a while, especially with the guarantee of quality gameplay and hypnotizing wages, ready to turn into palpable, real money in your pocket.
In short, although this game misses the novelty factor of some other slot machine games out there, as well as the plethora of bonus features you can get lost in, it makes up for those with fantastic execution, wide betting options, smooth, compelling gameplay and the immersive experience. Red Tiger Gaming has yet to release a casino game that will disappoint me, especially since we're now talking about a theme that has been a favourite for decades, by rookies and high rollers alike – that of the golden scarab promising solid payout potential.
My only concern could be the fact that this is not a progressive jackpot game, although I feel it makes up for that with the high volatility and the RTP. Red Tiger Gaming is a studio known for compelling gameplay and quality support, so you can rest assured that the Slot Title provides top-notch quality, despite the bickering mouths shouting "deja-vu".
You can play Jewel Scarabs on the top slot sites currently available as well as plenty of other similar Egyptian styled games like Book of Atem.
Ultimately, it is your call if you would like to experience the carefully crafted modern look of this long time casino favourite, or if it is something more contemporary that gets your juices flowing.
You may also want to read about: