Imperial Colours Slot Review – RTP, Features & Bonuses
Imperial Colours is a Golden Hero slot game that was first released back in August 2019. Continue on with our Imperial Colours slot review to learn more about the many components to this game, including the RTP, bonuses and features that are included within the game. Will this royal slot live up to its theme?
How to play Imperial Colours
Imperial Colours players must first decide what level of stake they wish to play at before they can begin spinning to their heart's content. This is done by adjusting the bet amount at the bottom of your screen by using the + and – symbols to increase or decrease the amount that you are gambling with respectively. Once you do that, you will also notice that the game will inform you of what your maximum available win is at that stake price, with there being a top win of £100,000. Why not use the autoplay feature too? This will enable you to complete up to 250 spins at once with just one click of a button.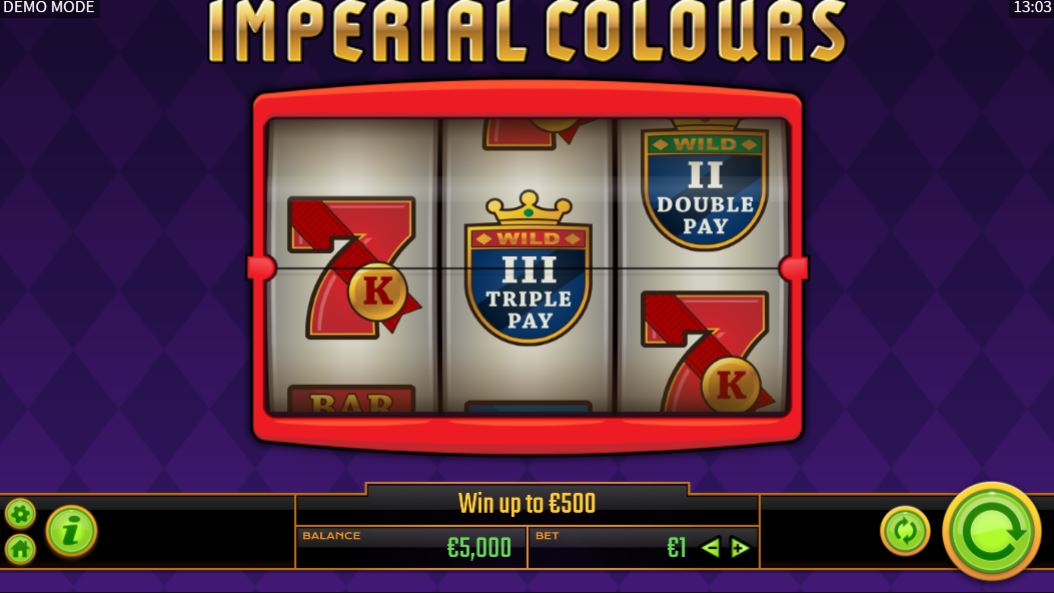 Imperial Colours Slot Features
Imperial Colours is a notably small slot, featuring a somewhat old fashioned 3×1 layout.
There is a minimum bet of 20p per spin featured within this game, while the maximum bet amount is capped at £200.
Imperial Colours comes with a maximum win of £100,000 available to players.
Golden Hero has produced a very colourful game with plenty of theme-related features, take a look at 4Squad slot by Red Tiger Gaming, which focusses on a Superhero based theme with similar RTP and features to Imperial colours.
Imperial Colours RTP
Return to player or often shortened to RTP is the percentage winning return from the selected slot. The higher the RTP the more likely the slot will return money to the player, reducing the chance to lose while the lower the RTP is the more chance you have to lose. However, this often comes with much larger maximum wins and bonuses compared with the higher RTP slots available.
The Imperial Colours slot comes with an RTP rating of 96%.
Imperial Colours Bonuses
Imperial Colours comes with a couple of bonus features, although they are lacking in this department when compared to other slot games out there. In this game there is a special wild symbol that looks like a coat of arms with a crown on top, which is ultimately the key to securing bigger wins than usual. This can turn into double pay or triple pay wilds if they form part of winning combinations, potentially giving you 2x or 3x your original winnings.
The gamble feature is the most intriguing of all within Imperial Colours, with this feature being triggered upon every winning combination that you receive. However, this is only available if you do not use the autoplay feature. If you choose to gamble your winnings, you will be asked to guess whether the colour of the next coin displayed will be red or blue. Get it right and your winnings will be doubled; get it wrong and you will lose your original win. This continues either until you lose, choose to walk away yourself with the winnings or when the gambling limit is reached.
As the name suggests Imperial Colours is very colourful. And the same makers of Imperial Colours recently produced Wild Dragon Slot, which is very popular due to its colours and cultural references.
There are no free spins or unlockable bonus rounds included within Imperial Colours.
Imperial Colours Summary
Imperial Colours is very much a classic slot game that has plenty to offer players. The gamble feature is especially intriguing as it's not something you see too often in slot games, while the RTP rating is pretty appealing too. However, the lack of a free spins feature or bonus rounds may be a deal-breaker for those who particularly enjoy these types of features within games.
You may also want to read about: