Honey Rush Slot Review – RTP, Features & Bonuses
Honey Rush is a Play'n Go slot that was initially released in October 2019, making it one of the newest slot games that we have reviewed in recent times. Still, they have managed to create a slot game that is able to compete with some of the classics of a bygone era. Below, we will take a closer look at Honey Rush and the RTP, features, and bonuses that are included within the game.
How to play Honey Rush
It's easy for even the least experienced slot players to get going on Honey Rush, with it being a simple game to understand and play. Begin by selecting your preferred stake amount, which can be found at the bottom of your screen and can be adjusted to suit the amount of money that you feel comfortable gambling with.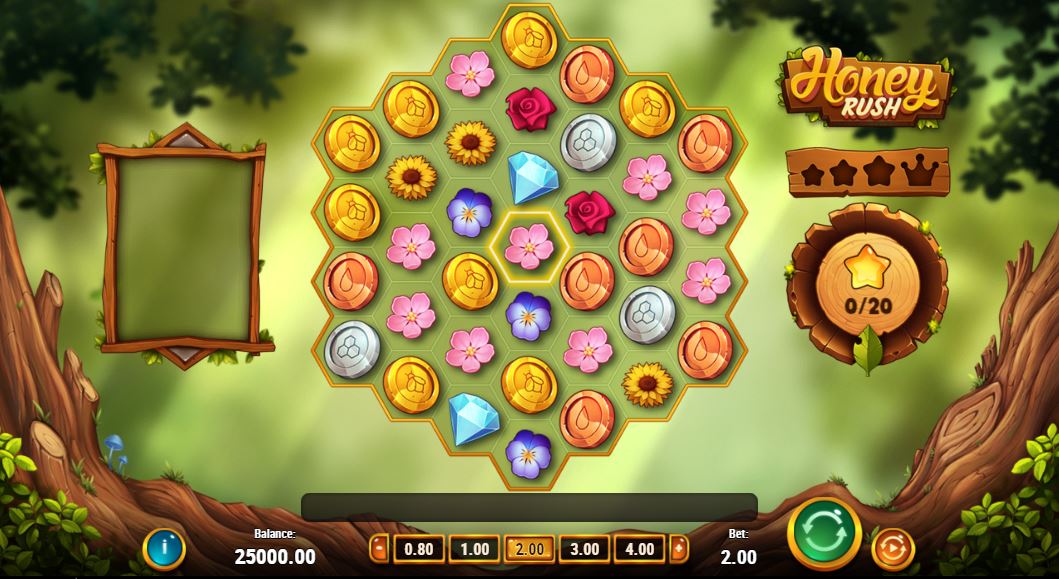 Players can also use the autoplay button to have the game complete its spins for you, all of which will be at the same stake that you have selected.
Honey Rush Slot Features
Honey Rush is somewhat unique as a slot game as it is played out across a 4-5-6-7-6-5-4 grid, which may be unfamiliar to some players.
This slot game comes with a minimum stake of 2p per spin and a maximum stake of £100 per spin, allowing players to adjust the level accordingly to their account balance.
The maximum win available to players from Honey Rush is 9000x the amount of your stake.
You can definitely see the similarity between Honey Rush and Candy Rush, so by far other games like Sweet Alchemy and Candy Dreams are popular due to their excellent graphical symbols and colorful features.
Honey Rush RTP
Return to player or often shortened to RTP is the percentage winning return from the selected slot. The higher the RTP the more likely the slot will return money to the player reducing the chance to lose while the lower the RTP the more chance you have to lose but this usually comes with much larger maximum wins and bonuses compared with the higher RTP slots available.
The Honey Rush slot comes with an RTP rating of 94.50%.
Honey Rush Bonuses
Unfortunately Honey Rush does not come with any bonus spins feature, but that should not put players off from giving this slot a go as there is still plenty of fun to be had in their other bonus features. There is also no progressive jackpot, but the maximum win of 9000x your original stake is extremely impressive for a high volatility slot, meaning you have the potential of pocketing £900,000 from a single spin.
Honey Rush includes a tumble reels feature and a rush meter, both of which can see you win impressive amounts. The bonus game comes with four different levels, with players needing to collect 20, 40 or 80 winning symbols respectively on each of the first three levels of the game. Every time you collect a winning symbol the rush meter fills up and once it has filled to the top you will then level up.
Level four of the game is known as the Queen Colony and you will need to collect 160 winning symbols before you can reach this level. This final level comes with clusters of up to 37 winning symbols, while there is also a Worker Colony feature that will be randomly activated on losing spins that can see you make good on your losses with up to 15 winning symbols.
Honey Rush Summary
Given the unique layout of this slot game, we were somewhat surprised by how quickly we felt at home playing Honey Rush and there is plenty of fun to be had by all who give it a try. Featuring a solid RTP rating you've always got a chance of winning and this is certainly a slot that will stick in your mind once you have finished playing it.