Gold Star Slot Review – RTP, Features & Bonuses
Gold Star is a Red Tiger Gaming slot game that was first released back in April 2017. Continue on with our Gold Star slot review to learn more about a number of different aspects included within the game and learn how you can begin playing Gold Star today. Within this review we will also include the RTP, features and bonuses that are included within the game.
How to play Gold Star
Before you begin playing Gold Star, you must make yourself aware of a number of game functions that can be adjusted that help you understand how to play the game. Knowing what you can control will allow you to personalise the way you play Gold Star will ensure that you play the game exactly how you are wanting to at a level that you are comfortable playing at.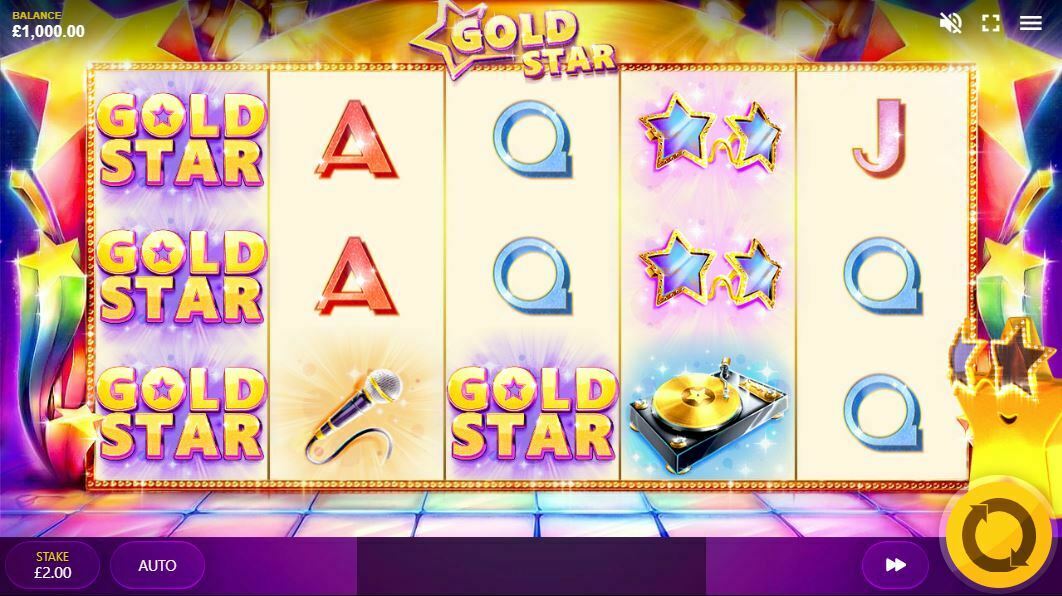 The first thing that you should look to adjust is the level of stake that you are playing at, with this factor determining how much you are gambling on each spin that you complete when playing Gold Star. This is done the same way that many Red Tiger Gaming slot games require you to change your stake through clicking the stake icon in the bottom left corner of your screen. You will then be presented with a list of stake amounts to choose from that you will be able to gamble on your spin. The stake amount that you choose will need to fall inside your account balance total.
You will also notice the 'auto' icon next to the stake icon which allows you to complete spins via an autoplay feature. For those who have not played with the autoplay before, it allows you to complete multiple spins at a selected stake at the click of one button. Gold Star allows you to potentially complete 10, 20, 30, 50, or 100 spins at once via the autoplay feature.
As Gold Star is one of the top slot games around, you'll find it's theme contributes to this, looking at other slots like Arena of Gold, which has a gold theme and has no doubt become more popular.
Gold Star Slot Features
Gold Star comes with a five-reel, three-row layout. There is also a music/karaoke theme associated with this game and the symbols that are used throughout.
There is a minimum stake of 20p per spin in place on Gold Star, while the maximum stake per spin for players is £100. This wide discrepancy will ensure that players of all sorts will be able to play this game, regardless of whether you prefer to play with higher stakes per spin or with lower amounts.
The maximum win available to Gold Star players is £444,000, with there being no progressive jackpot included within the game. This maximum win, however, is still more than enticing enough for those who are chasing big wins in this game.
Gold Star RTP
Return to player or often shortened to RTP is the percentage winning return from the selected slot. The higher the RTP the more likely the slot will return money to the player, reducing the chance to lose while the lower the RTP is the more chance you have to lose. However, this often comes with much larger maximum wins and bonuses compared with the higher RTP slots available.
The Gold Star slot comes with an RTP rating of 95.16%.
Gold Star Bonuses
Bonus features can often make or break a slot game, with it being the additional triggered extras that can provide players with the biggest wins. That is what makes the lack of bonuses available to players somewhat disappointing, as there are no Wilds or Scatter payouts available within this game, nor are there any free spins features or other games to trigger within Gold Star.
This game is all about the base game and transforming symbols, with there still being the opportunity to win pretty significant amounts despite the lack of bonuses within Gold Star. The most rewarding symbol in the game is the Gold Star logo, with players that land three, four, or five of these across the reels will see you win 88, 388 or 888 coins respectively. These logos can also be stacked to offer even bigger winning opportunities.
Also, be aware of the Gold Disc symbols when it comes to attempting to secure a big win. These can land anywhere across the reels and transform into new symbols to help create winning combinations. The Gold Star symbol can also appear on the reels at random at any time and create even bigger winning combinations through transforming symbols. The transformers are what can really boost your winnings on this slot.
Gold Star Summary
Gold Star's lack of bonus features may be off-putting for some, but those missing bonuses won't stop you from winning big. The base game is all there is to play with and we found it to be particularly rewarding, perhaps in turn to make up for the lack of bonuses that are not present within the game. We were also left impressed by how many choices you have when it comes to selecting your stake, which ranges from 20p per spin to £100 per spin, meaning a whole host of players can access it. The theme and gameplay is also well polished, just as you would expect from a Red Tiger Gaming slot game.
You may also want to read about: