Cutesy Pie Slot Review – RTP, Features & Bonuses
If you are looking for a fun classic slot to play, then you can usually count on Microgaming to provide one and one title you should definitely consider is Cutesy Pie. Cutesy Pie is your typical classic slot that features three reels and lacks the usual bonus features found in modern slots. A cute cuddly panda is the slots mascot and can be found surrounded with love hearts and messages that read ' I Love You'. Although Cutesy Pie lacks bonus features, it offers some fun gameplay and lucrative jackpot prizes that you can find out about below.
How to Play Cutesy Pie Slot
Before you are free to set Cutesy Pie's reels into motion, you will need to know what game functions can be adjusted before each spin which we have highlighted below for you.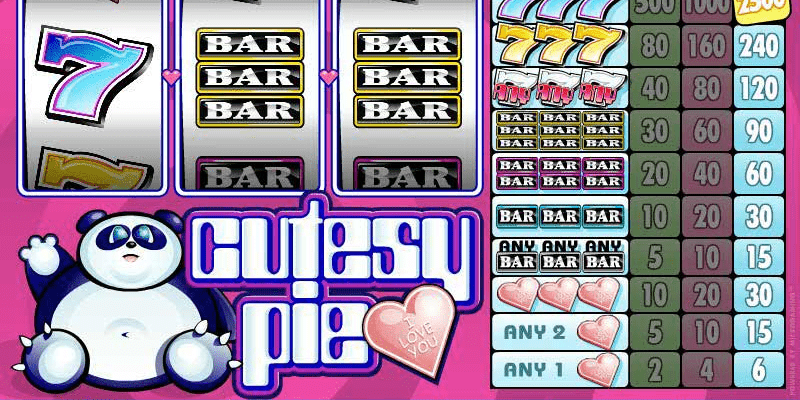 Firstly, Cutesy Pie players should look to adjust their bet size by using the "Coin Value +/-" buttons to set how many coins they wish to bet per spin. If you happen to be short on time then simply hit the "Max Bet" button to your bet to the maximum amount without having to manually adjust.
Once you have set your desired bet amount you are ready to click the "Spin" button to initiate the spinning of the reels. If you are tight for time and do not want to fuss around hitting the spin button every time you are ready to set the reels into motion, then you can also use the "Auto" button to automatically spin the reels a set amount of times that you wish them to be spun.
Slot Features
Being a classic slot, Cutesy Pie is made up of just three reels and it offers just one payline. Players can bet anywhere from 25p per spin to £15 per spin and although no progressive jackpot is on offer players can win up to £12,500.
Cutesy Pie features an array of traditional slot symbols that include bars, double bars, triple bars and any bars.
Cutesy Pie RTP Figure
As a gamer, you will always want to know what your chances of winning are so you know you are not wasting your time on a video slot that very rarely pays out. If you are looking for a video slot that pays out more often, then you will need to look for one that offers a high RTP (Return To Player) % or falls into the category of low volatility.
The Cutesy Pie video slot offers an RTP figure of 95.93%.
Cutesy Pie In-game Bonuses
Wilds
Unfortunately, Cutesy Pie does not offer any wild symbols.
Scatters & Free Spins
Being a classic slot, Cutesy Pie does not offer any form of scatter symbols or free spins. This includes both respins and bonus spins.
Summary
Cutesy Pie is the type of slot that lets players focus on spinning the reels which can be a lot of fun when there is not multiple unwanted bonus features to sift through. Despite lacking any form of bonus features, Cutesy Pie is great fun and there is plenty of money to be won thanks to the RTP figure and jackpot prize of £12,500.
You may also want to read about: