Cash Volt Slot Review – RTP, Features & Bonuses
Red Tiger Gaming has several slots in its portfolio that are based around retro-style fruit machines and today we take a look at a slot that falls into the same category with Cash Volt. Retro-style fruit machines have been around for a long time and that comes down to slot players enjoying them; Cash Volt is another that you are bound to enjoy. This Red Tiger Gaming slot features a fairly standard design of five reels and three rows, offering a total of 20 paylines. The reels are filled with traditional fruit machine symbols and the Cash Volt logo, which you will want to keep your eyes peeled for as it can lead to the maximum payout.
There is plenty more to find out about Cash Volt, so continue reading below to find out all the juicy details.
How to Play Cash Volt Slot
Before you are free to spin the retro-themed reels of Cash Volt, you will need to know what game functions can be adjusted before each spin which we have taken the time to highlight for you below.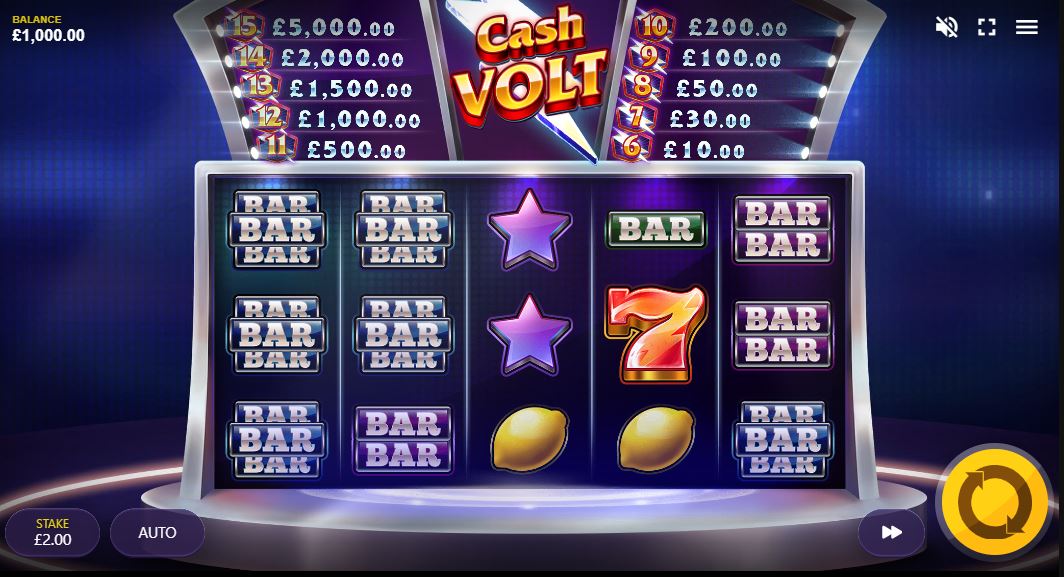 Firstly, Cash Volt players should look to adjust their bet size by using the "Coin Value +/-" buttons to set how many coins they wish to bet per spin. If you happen to be short on time then simply hit the "Max Bet" button to your bet to the maximum amount without having to manually adjust.
Once you have set your desired bet amount, you are ready to click the "Spin" button to initiate the spinning of the reels. If you are tight for time and do not want to fuss around hitting the spin button every time you are ready to set the reels into motion, then you can also use the "Auto" button to automatically spin the reels a set amount of times that you wish them to be spun.
Cash Volt Slot Features
Being a retro-themed fruit machine, you may expect a slot like Cash Volt to only have three reels, but it has been given a modern twist by Red Tiger Gaming and features five reels. Cash Volt has a total of 20 paylines to win from and players can spin the reels from as low as 10p per spin to £40 per spin. Unfortunately, no progressive jackpot is on offer with this Red Tiger Gaming slot, but players can win up to 2500x their stake from one spin.
All of you mobile players will be glad to hear that Cash Volt can be played on mobile devices and it is just as fun. Since Cash Volt has been developed using the HTML5 platform, it runs smoothly on a variety of mobile devices and requires no extra download file to be played.
Since Cash Volt is a retro-themed slot, Similar to Sonic Reels slots, fruit machine, the reels are filled will all of our favourite traditional slot symbols that include cherries, bells, bars, double bars, triple bars, as well as a bunch of fruit symbols, like lemons, oranges and watermelon.
RTP Figure
As a gamer, you will always want to know what your chances of winning are so you know you are not wasting your time on a video slot that very rarely pays out. If you are looking for a video slot that pays out more often, then you will need to look for one that offers a high RTP (Return To Player) % or falls into the category of low volatility.
The Cash Volt video slot offers an RTP figure of 95.71%.
Cash Volt In-game Bonuses
Since Cash Volt is a retro-themed slot, it does not offer all of the extravagant modern bonus features usually found on five-reel slot and instead is filled with numerous different payout values.
Max Payout Wins
The most valuable symbol on the reels of Cash Volt is by far the Cash Volt logo. Not only is the Cash Volt logo the most valuable symbol, but it can also award instant payouts to punters if they are lucky enough to land six or more on the reels. A basic rule to follow is that more Cash Volt logos on the reels will lead to bigger payouts. Below is a paytable:
6 Cash Volt logo symbols pay 5x your total stake.
7 Cash Volt logo symbols pay 15x your total stake.
8 Cash Volt logo symbols pay 25x your total stake.
9 Cash Volt logo symbols pay 50x your total stake.
10 Cash Volt logo symbols pay 100x your total stake.
11 Cash Volt logo symbols pay 250x your total stake.
12 Cash Volt logo symbols pay 500x your total stake.
13 Cash Volt logo symbols pay 750x your total stake.
14 Cash Volt logo symbols pay 1,000x your total stake.
15 Cash Volt logo symbols pay 2,500x your total stake.
Colossal Symbols
The Cash Volt reels can also see colossal symbols land on them, so keep your eyes peeled for 2×2 and 3×3 symbols, as these are count as equivalent to four or nine standard Cash Volt logo symbols.
Summary
Red Tiger Gaming has managed to come up with a title that is a perfect mix between a modern five-reel slot and a retro fruit machine slot with Cash Volt. Despite featuring five reels and some cool animations, Cash Volt offers very simple gameplay with no real bonus features. Although there are no real bonus features provided on this slot, there is plenty of money to be won thanks to the Cash Volt logo which can award up to 2500x players' stakes, as well as instant payouts. Not only this, but players can find colossal symbols on the reels which are worth much more than standard symbols.
We are big fans of Red Tiger Gaming's work and think the mix of a modern-day slot and a retro-themed fruit machine works very well. If you think that you would also enjoy Cash Volt then head to any Red Tiger Gaming casino today to enjoy.
You may also want to read about: