Big Kahuna Snakes & Ladders Slot Review – RTP, Features & Bonuses
You may recognise the title of this slot for two reasons – the first being that this is Microgaming's second rendition of Big Kahuna and secondly for the incredibly popular board game title snakes and ladders. Big Kahuna Snakes & Ladders is a board game based slot that offers a tropical island theme that features colourful fruits and exotic animals. Video slots being based on board games is not unusual, but with that being said they are not something you come across very often. Big Kahuna Snakes & Ladders has a variety of bonus features on offer which we take a closer look at below, so if you fancy finding them all out, simply continue reading below.
How to Play Big Kahuna Snakes & Ladders Slot
Before you can climb up ladders or slide down snakes, you will need to know what game functions can be adjusted before each spin which we have highlighted below.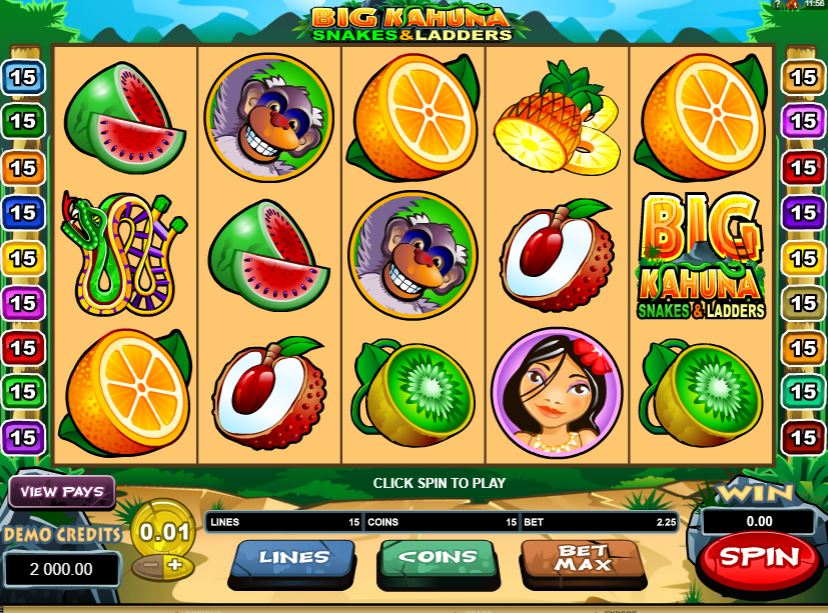 Firstly, Big Kahuna Snakes & Ladders players should look to adjust their bet size by using the "Coin Value +/-" buttons set how many coins they wish to bet per spin. If you happen to be short on time then simply hit the "Max Bet" button to your bet to the maximum amount without having to manually adjust.
Once you have set your desired bet amount you are ready to click the "Spin" button to initiate the spinning of the reels. If you are tight for time and do not want to fuss around hitting the spin button every time you are ready to et the reels into motion, then you can also use the "Auto" button to automatically spin the reels a set amount of times that you wish them to be spun.
Slot Features
Big Kahuna Snakes & Ladders features an ordinary slot design of three rows and five reels, in which it offers a total of 15 paylines from. Unfortunately, Big Kahuna Snakes & Ladders does not offer players a progressive jackpot but they can get their hands on the 5000x fixed jackpot prize. Betting on this Microgaming slot starts as low as 1p per spin and maxes out at £75 per spin.
If you're on the lookout for solely 1p penny slot sites, Big Kahuna is a decent option but also supports £75 per spim.
All symbols are theme-related on Big Kahuna Snakes & Ladders and include images of fruits like watermelon, oranges, coconuts, kiwis and pineapples.
Big Kahuna Snakes & Ladders RTP Figure
As a gamer, you will always want to know what your chances of winning are so you know you are not wasting your time on a video slot that very rarely pays out. If you are looking for a video slot that pays out more often, then you will need to look for one that offers a high RTP (Return To Player) % or falls into the category of low volatility.
The Big Kahuna Snakes & Ladders video slot offers an RTP figure of 96.16%.
Big Kahuna Snakes & Ladders In-game Bonuses
Scatters & Free Spins
Unlike other video slots, Big Kahuna Snakes & Ladders does not require players to land any particular symbols or any combinations across the reels to win free spins. Free spins are awarded at random when playing Big Kahuna Snakes & Ladders and players will receive 5 free spins at a time.
Snakes & Ladders Quest
To trigger this bonus features, players must land a Snakes & Ladders symbol on reels one, three and five. Following this, players get to play a game of snakes & ladders and their objective is to reach the top (end) of the board. Bigger and better prizes will be awarded to players for reaching higher up the table.
Summary
With Big Kahuna Snakes & Ladders being based on the Snakes & Ladders board game, you pretty much get two games for the price of one when playing this Microgaming slot and it also makes for some exciting gameplay. Asides from only offering players free spin that are gifted at random, there is plenty of cash to be won and combine this with its RTP figure of 96.16% – you have more than enough reasons to try out Big Kahuna Snakes & Ladders.