Big 5 Slot Review – RTP, Features & Bonuses
One thing you can always count on finding when browsing through video slots is coming across a slot using a wild African theme featuring a bunch of iconic animals, well this article takes a look at Microgaming's Big 5 video slot. You may recognise the term 'Big 5' which is mainly used nowadays as a marketing term for a group of animals that include a lion, elephant, buffalo, leopard, and rhino, however, this was once used as a term for hunters chasing the 5 most wanted animals. Big 5 is a classic slot by Microgaming made up of just three reels, featuring bars, double bars, and cherries. Continue reading below to see what else Microgaming's Big 5 slot has to offer you today.
How to Play Big 5 Slot
Before you can help match Africa's big 5, you will need to know what game functions can be adjusted before each spin which we have highlighted below.
Firstly, Big 5 players should look to adjust their bet size by using the "Coin Value +/-" buttons set how many coins they wish to bet per spin. If you happen to be short on time then simply hit the "Max Bet" button to your bet to the maximum amount without having to manually adjust.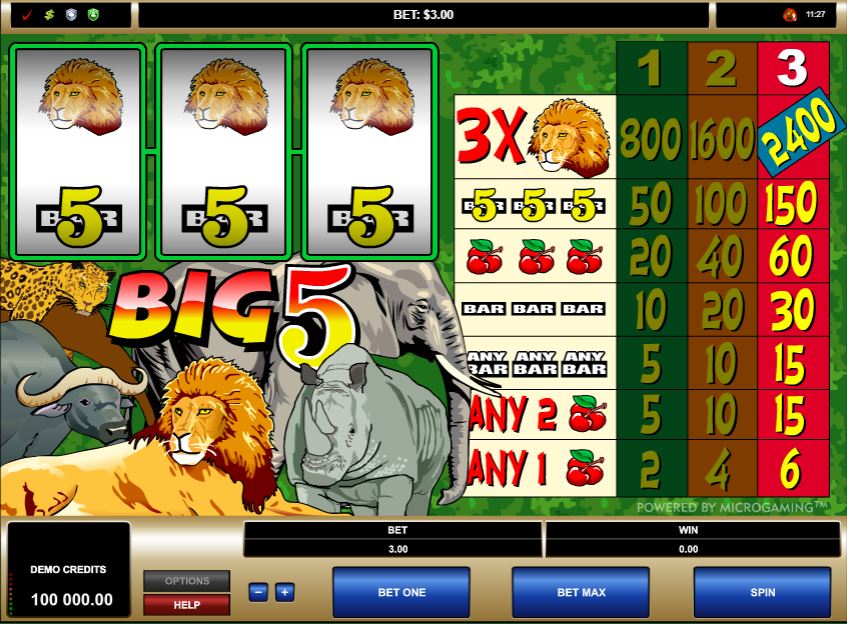 Once you have set your desired bet amount you are ready to click the "Spin" button to initiate the spinning of the reels. If you are tight for time and do not want to fuss around hitting the spin button every time you are ready to et the reels into motion, then you can also use the "Auto" button to automatically spin the reels a set amount of times that you wish them to be spun.
Slot Features
Big 5 is a classic slot made up of just three rows that offers players just a single payline to win from. Big 5 does not offer a progressive jackpot to win, but players can get their hands on the fixed jackpot prize worth 2400x their stake. When it comes to betting, players can wager anywhere from 25p to £15 per spin.
As previously mentioned, Big 5 uses a bunch of traditional slot symbols including bars, double bars, 5 bars, cherries and images of lions. Like most Microgaming slots, Big 5 is available to be played on most devices from laptops to mobiles, which includes both Android and iOS devices.
Big 5 RTP Figure
As a gamer, you will always want to know what your chances of winning are so you know you are not wasting your time on a video slot that very rarely pays out. If you are looking for a video slot that pays out more often, then you will need to look for one that offers a high RTP (Return To Player) % or falls into the category of low volatility.
The Big 5 video slot offers an RTP figure of 92.26%.
Big 5 In-game Bonuses
Being a classic slot, Big 5 does not offer bonus features like modern five-reel slots, but this does not mean there is not plenty of fun to be had and money to be won. So despite lacking free spins, multipliers and a bonus game, players can get their hands on a jackpot prize worth 2400x their stake.
The most valuable symbol found on this Microgaming slot is the image of a lion and landing three of these across the reels will award the jackpot prize.
Summary
Classic slots appeal to those who like classic slots, as they are unable to offer many bonus features found in modern 5 reel slots. However, despite the lack of bonus features, you can not beat the simplicity of Microgaming's Big 5 slot which is a lot of fun to play. Big 5's graphics come across slightly dated but with a jackpot prize worth 2400x players' stake, you will soon learn to live with them.
You may also want to read about: