Beautiful Bones Slot Review – RTP, Features & Bonuses
Beautiful Bones is one of Microgaming's oddest video slots with it taking its theme from the Mexican Day of the Dead celebration. Beautiful Bones uses Microgaming's unique 243 payline structure, providing players with more than enough winning combinations. Despite using a theme inspired by the celebration of the dead, Beautiful Bones is a great looking slot that is filled with bright colours. With that being said, Beautiful Bones is more than just a bunch of eye-catching graphics though, with it also packed full of bonus features that are sure to make your experience with them beneficial.
To find out what else Beautiful Bones has to offer you today, continue reading below.
How to Play Beautiful Bones Slot
Before you can set the reels of Beautiful Bones into motion, you will need to know what game functions can be adjusted before each spin which we have highlighted below.
Firstly, Beautiful Bones players should look to adjust their bet size by using the "Coin Value +/-" buttons set how many coins they wish to bet per spin. If you happen to be short on time then simply hit the "Max Bet" button to your bet to the maximum amount without having to manually adjust.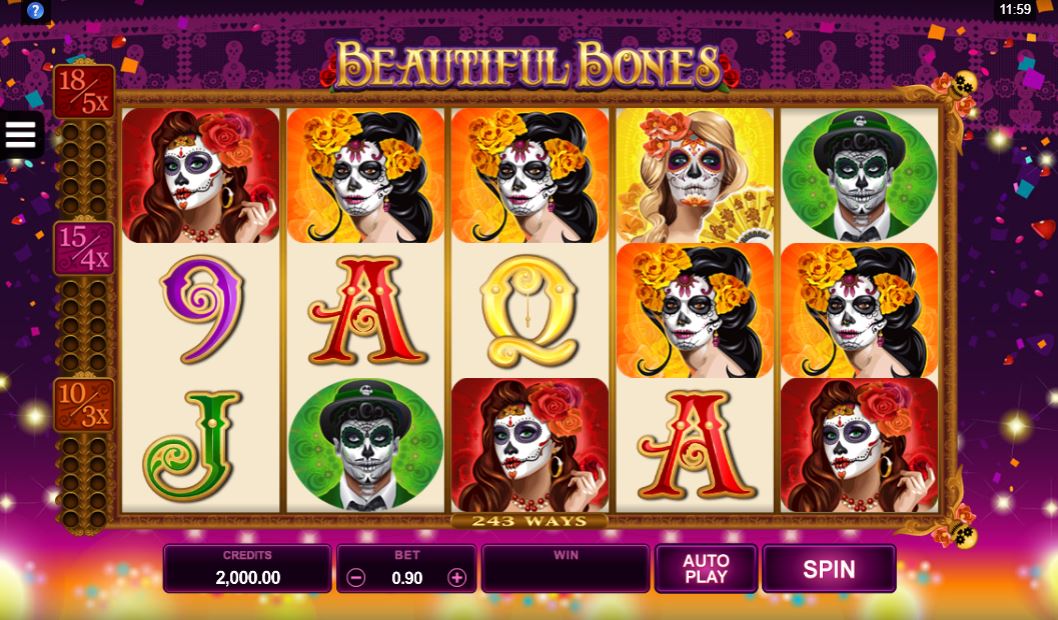 Once you have set your desired bet amount you are ready to click the "Spin" button to initiate the spinning of the reels. If you are tight for time and do not want to fuss around hitting the spin button every time you are ready to et the reels into motion, then you can also use the "Auto" button to automatically spin the reels a set amount of times that you wish them to be spun.
Slot Features
This Microgaming slot is made up of three rows and five reels, offering players a total of 243 paylines. Players can bet anywhere from 30p to £15 per spin while playing Beautiful Bones. Despite not offering a progressive jackpot, Beautiful Bones does offer a fixed jackpot prize worth 8000 coins.
As you would expect, Beautiful Bones uses playing card icons for the low-value symbols, which include 10, J, Q, K, A. The high-value symbols are represented by five skull painted characters.
Beautiful Bones RTP Figure
As a gamer, you will always want to know what your chances of winning are so you know you are not wasting your time on a video slot that very rarely pays out. If you are looking for a video slot that pays out more often, then you will need to look for one that offers a high RTP (Return To Player) % or falls into the category of low volatility.
The Beautiful Bones video slot offers an RTP figure of 96%.
Beautiful Bones In-game Bonuses
Wild Spin Again
This feature is activated when a player gets a three of a kind winning combination and following this, the centre position of your win will turn wild with a free re-spin.
Scatters & Free Spins
Triggering the free spins feature, which is by far the most attractive bonus feature, is done by collecting 10 sugar skull scatter symbols anywhere on the reels. Once players have collected ten of these skulls scatter symbols, they will be rewarded with 10 free spins with a 3x multiplier. Those who collect 20 scatters will receive 15 free spins and a 4x multiplier. Finally, players who collect 30 sugar skulls will be rewarded with 18 free spins and a 5x multiplier.
Summary
Beautiful Bones offers a fun and unique theme that is sure to keep you interested for a long time and with it using Microgaming's 243 payline structure, there is plenty of chances to land winning combinations. On top of this, Beautiful Bones offers a rewarding free spins feature which comes with up to 5x multipliers! Combine all this with a respectable RTP figure of 96% and you have more than enough reason to try this Microgaming slot.
You may also want to read about: