Battle Dwarf Slot Review – RTP, Features & Bonuses
Those of you who take a liking to fantasy films that feature dragons, goblins and trolls will fall in love with Japan Technicals Games (JTG) Battle Dwarf slot. Battle Dwarf is what is known as a Pachislot which are slot games traditional to Japan and thanks to JTG's work are beginning to break into the iGaming industry. Battle Dwarf is certainly not JTG's best work when we consider the graphics, but they are far from disappointing. The clustered background may be a lot to take in over long periods of time but makes for a good-looking backdrop. Battle Dwarf offers an array of bonus features that will make players experience incredibly rewarding and to find out the detail, simply continue reading below.
How to Play Battle Dwarf Slot
Before you can set the reels of Battle Dwarf into motion, you will need to know what game functions can be adjusted before each spin which we have taken the time to highlight below.
Firstly, Battle Dwarf players should look to adjust their bet size by using the "Coin Value +/-" buttons to set how many coins they wish to bet per spin. If you happen to be short on time then simply hit the "Max Bet" button to your bet to the maximum amount without having to manually adjust.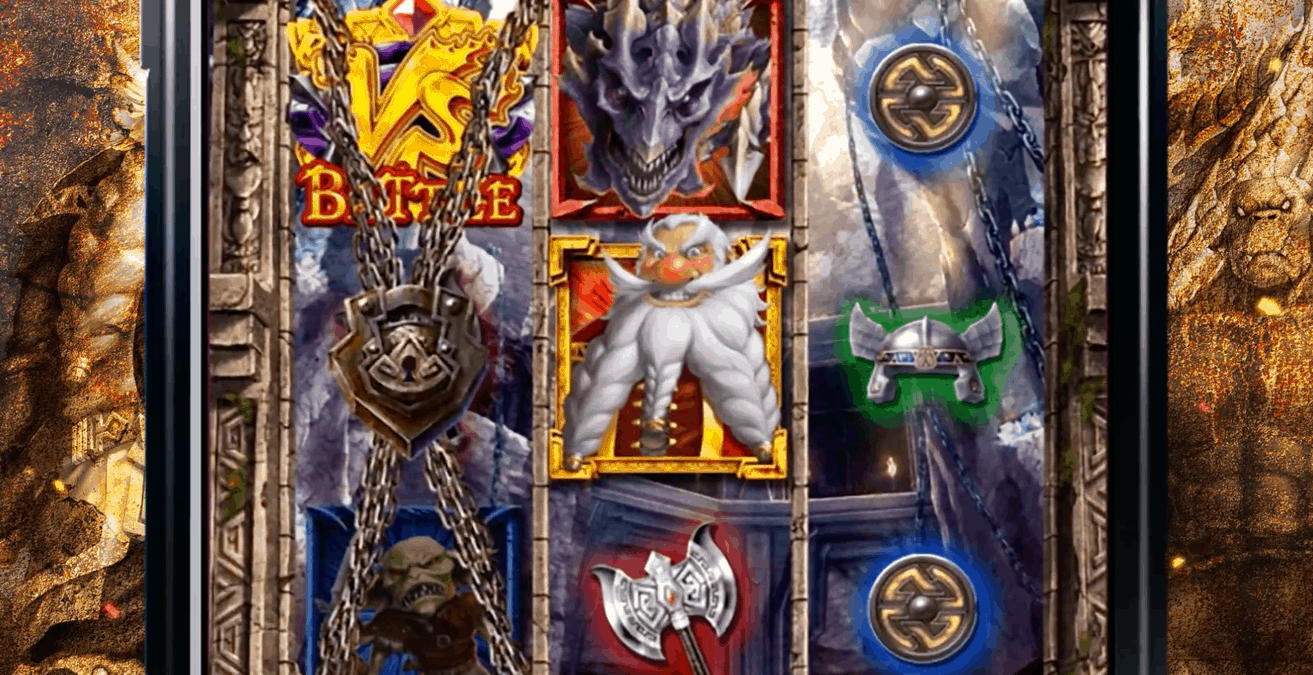 Once you have set your desired bet amount you are ready to click the "Spin" button to initiate the spinning of the reels. If you are tight for time and do not want to fuss around hitting the spin button every time you are ready to set the reels into motion, then you can also use the "Auto" button to automatically spin the reels a set amount of times that you wish them to be spun.
Battle Dwarf Slot Features
Battle Dwarf features the standard pachislot design of three reels and three rows. Players have a total of five paylines to win from and the betting range spans from 20p per spin to £100 per spin. The jackpot prize sits at 300x players stakes.
Battle Dwarf himself sits as the highest paying symbol awarding a multiplier of 20x on an active payline, while his nemeses; the dragon, the troll and goblin award 7x, 5x and 3x multipliers. The following images resemble the low-value symbols; an axe, hammer, helmet and a shield.
Battle Dwarf RTP Figure
As a gamer, you will always want to know what your chances of winning are so you know you are not wasting your time on a video slot that very rarely pays out. If you are looking for a video slot that pays out more often, then you will need to look for one that offers a high RTP (Return To Player) % or falls into the category of low volatility.
The Battle Dwarf video slot offers an RTP figure of 96%.
Battle Dwarf In-game Bonuses
Battle Bonus
The battle bonus game gives players access to the free spins feature once it has been completed. Triggering the battle bonus game is achieved by landing three battle scatter symbols on the reels. Following this, Battle Dward will face a random enemy and if he wins players will be rewarded with free spins/bonus spins. Players can choose to 'run away' to guarantee a small number of free spins.
Below are the three enemies available to be fought:
Goblin (weakest) – Defeat the Goblin to win 10 Free spins. Runaway to win 7 Bonus spins.
Troll (medium strength) – Defeat the Troll to win 20 Free spins. Runaway to win 10 Bonus spins.
Dragon (strongest) – Defeat the Dragon to win 30 Free spins. Runaway to win 13 Bonus spins.
Treasure Rush
During the Treasure Rush game, if players land treasure symbols on the reels they will be rewarded with between one and ten free spins.
Ragnorok Feature
This feature basically supercharges the Treasure Rush feature and enables Battle Dwarf to fight the dragon every 30 spins.
Battle Dwarf Slot Review Summary
Like all of Japan Technicals Games slots, Battle Dwarf is a very complex slot which offers a bunch of bonus features and mini-games that all interlink with one another. The plus side to all of the available bonus features is that players can experience very rewarding gameplay. However, triggering and making the most of these bonus games can be tough for players to achieve if they are new to the game. Despite this, we are big fans of Battle Dwarf with it packed full of multipliers and free spins.
You may also want to read about: