Arcade Bomb Slot Review – RTP, Features & Bonuses
Arcade Bomb by Red Tiger Gaming is an interesting classic fruit machine slot that has a slightly retro theme to it. From the dark blue background and fluttering lights that look like distant stars, Arcade Bomb looks to be set in space which makes for a calming game theme. Being a classic fruit machine, the reels are packed-full with different fruit symbols, including watermelon, oranges, cherries and lemons. There are some unique and exciting bonus features included in Arcade Bomb, which you can find out about below in this article.
How to play Arcade Bomb Slot
Before you are free to enter space and spin the reels on Arcade Bomb, you will need to know what game functions can be adjusted before each spin which we have taken the time to highlight for you below.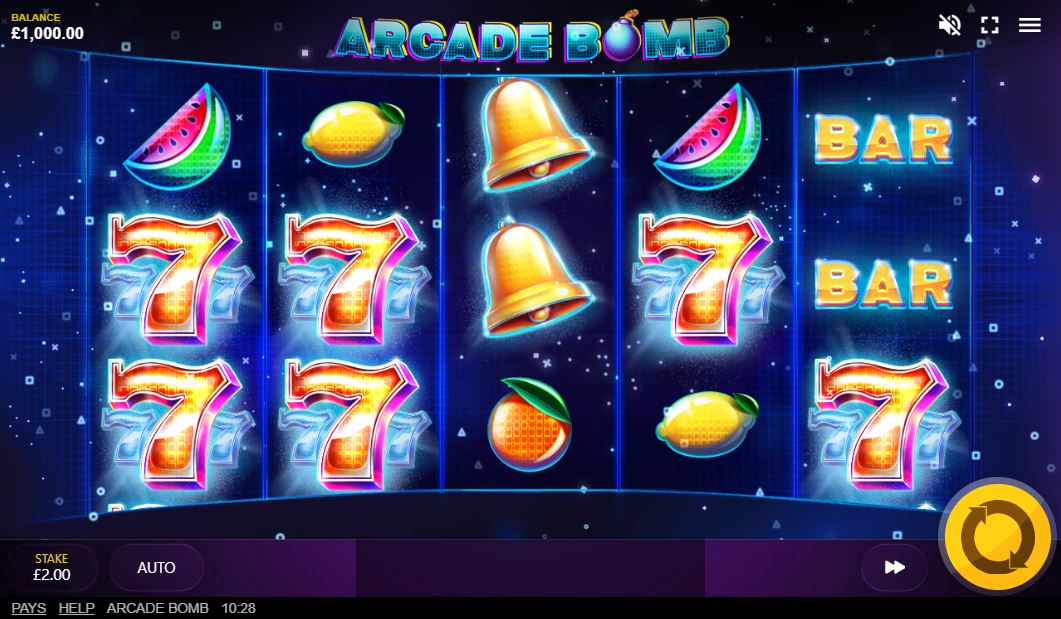 Firstly, Arcade Bomb players should look to adjust their bet size by using the "Coin Value +/-" buttons to set how many coins they wish to bet per spin. If you happen to be short on time then simply hit the "Max Bet" button to your bet to the maximum amount without having to manually adjust.
Once you have set your desired bet amount, you are ready to click the "Spin" button to initiate the spinning of the reels. If you are tight for time and do not want to fuss around hitting the spin button every time you are ready to set the reels into motion, then you can also use the "Auto" button to automatically spin the reels a set amount of times that you wish them to be spun.
Arcade Bomb Slot Features
Despite being a classic fruit machine, Arcade Bomb features three rows and five reels. From these reels, a total of 20 pay lines can be won. Betting on Arcade Bomb starts from as low as 20p per spin and ranges up to £100 per spin. No progressive jackpot is on offer, but players can win up to 1000x their stake.
As a bomb-themed slot game, these are vastly popular and exciting
All symbols are theme-related on Arcade Bomb, with the majority of symbols made up of classic fruit symbols, which include lemons, watermelon, oranges, cherries, and strawberries.
RTP Figure
As a gamer, you will always want to know what your chances of winning are so you know you are not wasting your time on a video slot that very rarely pays out. If you are looking for a video slot that pays out more often, then you will need to look for one that offers a high RTP (Return To Player) % or falls into the category of low volatility.
The Arcade Bomb video slot offers an RTP figure of 95.47%.
Arcade Bomb In-game Bonuses
Locked Reel Bombs
During Arcade Bomb the locked reel bombs can appear on the reels at any time instead of the standard fruit symbols. Following this, they will remain locked in position for anywhere between one and nine spins. When the bombs do happen to explode, they leave the exact same pattern behind on the reels.
Blue bomb blasts horizontally
Yellow bomb blasts vertically
Green bomb blasts in a horizontal and vertical cross
Purple bomb blasts in a diagonal cross
Wilds
There are no wilds on Arcade Bomb at this point in time.
Scatters & Free Spins
There are no scatter or free spins included on this Red Tiger Gaming slot.
Summary
Arcade Bomb is a great example of a slot that manages to combine a classic theme with some modern features, and the outcome is impressive. Based around a classic fruit machine, the aesthetic features of Arcade Bomb are very appealing and combine this with the unique locked reel bomb feature and you have an incredibly fun slot. Also, with an RTP figure sat at 95.47%, Arcade Bomb will award payouts more often than not which is always positive. Head to any Red Tiger Gaming casino today to try out their Arcade Bomb video slot.
You may also want to read about: