7 Oceans Slot Review – RTP, Features & Bonuses
If you know anything about Microgaming software then you will also know that they love developing classic three-reel slots with a modern twist and no one quite does it as good as they do. 7 Oceans slot is a perfect example of their expertise and although this slot is not going to win any awards for its graphics and visual features it does not mean you can not have countless hours of fun on it. 7 Oceans slot gains its theme from the ocean (believe it or not) and more specifically the deep sea, with it set on the sea bed.
Continue reading below to find out what other features 7 Oceans has to offer.
How to Play 7 Oceans Slot
Before you are free to enter the deep seas with 7 Oceans, you will need to know what game functions can be adjusted before each spin which we have highlighted below.
Firstly, 7 Oceans players should look to adjust their bet size by using the "Coin Value +/-" buttons set how many coins they wish to bet per spin. If you happen to be short on time then simply hit the "Max Bet" button to your bet to the maximum amount without having to manually adjust.
Once you have set your desired bet amount you are ready to click the "Spin" button to initiate the spinning of the reels. If you are tight for time and do not want to fuss around hitting the spin button every time you are ready to et the reels into motion, then you can also use the "Auto" button to automatically spin the reels a set amount of times that you wish them to be spun.
7 Oceans Slot Features
As we have already stated, 7 Oceans features a classic design of just three reels and offers just a single payline to win from. Betting starts as low as 75p and maxes out at £75 per spin. There is no progressive jackpot on offer with 7 Oceans, but players can chase after the fixed jackpot worth up to 4000 coins.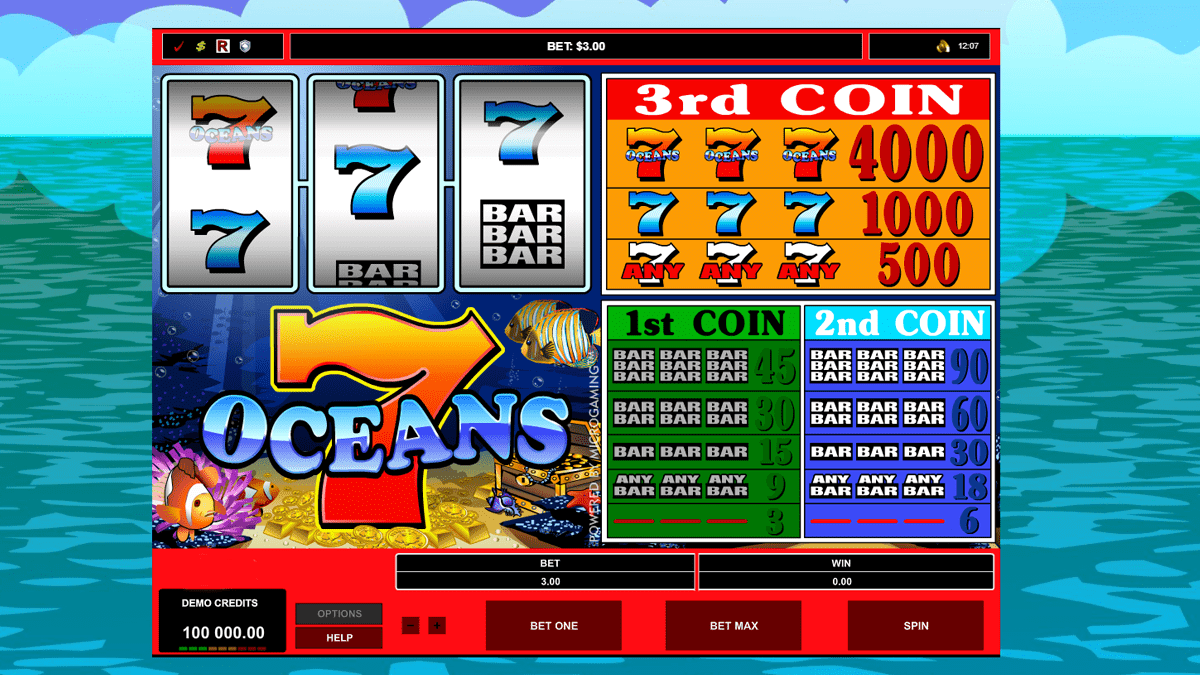 You will be familiar with most of the symbols found in this Microgaming slot, as they resemble those found in traditional slot machines. Players can expect to see all of the following symbols – single BARs, double BARs, triple BARs, a blue 7 and a red "7 Oceans" logo icon.
7 Oceans RTP Figure
As a gamer, you will always want to know what your chances of winning are so you know you are not wasting your time on a video slot that very rarely pays out. If you are looking for a video slot that pays out more often, then you will need to look for one that offers a high RTP (Return To Player) % or falls into the category of low volatility.
The 7 Oceans video slot offers an RTP figure of 97%.
7 Oceans In-game Bonuses
7 Oceans lacks the usual bonus features you may tend to find across other video slots, including features like wilds, scatters and free spins. 7 Oceans instead offers 13 different winning combinations that are made up of varying symbols. Players simply can choose either to bet one coin, two coin or three coins every spin and the more coins that are wagered will, in turn, lead to more possible winning combinations. Also, wagering more coins will unlock the more lucrative winning combinations.
Winning combinations include some of the following;
3x Blank – 3x – 6x multiplier potential.
3x Single Bar – 15x – 30x multiplier potential.
3x Double Bar – 30x – 60x multiplier potential.
3x Triple Bar – 45x – 90x multiplier potential.
Most Microgaming casino sites offer plenty of bonuses, free spins, low minimum bets, and high maximum wins.
7 Oceans Slot Review Summary
If you are looking for a classic slot that features some traditional symbols and paying combinations then Microgaming's 7 Oceans is a great slot for you. Instead of offering a set number of paylines, 7 Oceans offers various winning combinations that depend on the number of coins wagered. So, if you fancy try your luck on this retro slot head to any Microgaming casino today.